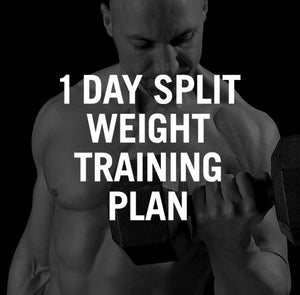 1 Day Split Weight Training Workout Plan
Easy to follow Workout
Exercise Demonstration Links 
Available For Download Now
What is the 1 Day Split Weight Training Workout?
This is a downloadable weight training workout program, best suited for beginners. It's designed to train the whole body with weight training equipment, in one workout. This workout program can be repeated multiple times each week. The exercise plan is suitable for beginners starting out on weight training, or those reintroducing weight training after an extended break.
How long should I follow this plan?
It's recommended to follow this plan consistently, for 6 - 12 weeks.
Please Note:
This plan is in electronic PDF format, to be downloaded after purchase. Once your order is complete you will be sent an email with a link to begin your download. If you don't receive the email within a few minutes of placing your order, please check your spam folder.
Legal Stuff
Please check with your Doctor before beginning an exercise program. If you suffer from a pre-existing heart condition this plan may not be suitable for you, please seek medical advice first.