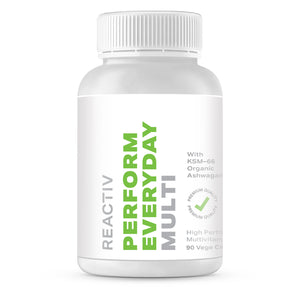 Regular price
$44.80
Sale price
$68.90
or 4 payments of $11.20 with
More info
NEW IMPROVED performance Mutivitamin formula
With Organic Ashwagandha, and Moringa
Plus Nootropics, and L Carnitine
Clean health and immunity support
Help perform at your peak every day
Assist more energy for body and mind
Big value 90 serve bottle
Vegetarian Approved Product
What is Perform Everyday Multi?
Perform Everyday Multi is a very clean, premium multivitamin capsule, proudly made here in Aotearoa. The formula has been carefully developed to help boost wellness, immunity, natural energy, and physical and mental performance.
Using a vegetable capsule, we bring together healthful local and imported vitamins, minerals, adaptogens, nootropics, and supergreens. Plus, L Carnitine Tartrate. A form of L Carnitine best suited for assisting exercise performance and recovery, and for supporting fat metabolism.
All–in–one diet insurance
The results of agricultural practices on the fruits and vegetables we eat, is they have become nutritionally 'weaker'. This is compared to their strength only a few decades ago. It's important to find ways to boost the potency of our diet, to cover the essentials we need, to stay well and perform well.
Busy living, stress, exercise, strength plans, and weight loss programs, also may add to greater dietary needs of our body from our nutrition.
Perform Everyday Multi is a solution you can take to make health and immune support easier. It's a safe all–in–one, to help you perform at your peak every day.
A unique, feel good multi

Perform Everyday Multi is a uniquely different multivitamin. Not only is it a balanced source of essential Vitamins and Minerals, but also delivers additional health support from Adaptogens, Nootropics, Supergreens and L Carnitine.
B Group Vitamins 
Important for supporting energy, mood and brain power, B vitamins also help immunity and muscle function. As we age they become even more important for staying healthy, daily activities, or if we eat more plant based. 

Vitamin D3 Immunity
Vitamin D3, the sunshine vitamin, plays a significant role for helping support the immune system. It also helps bones stay healthy and muscles stay strong.
Zinc and Copper

Zinc and Copper are two essential minerals that play important parts helping immunity. Additionally Copper may play a key role for keeping body fat in check, and Zinc may help favourably too. 

Vitamin C, Multivitamins, and Minerals
Vitamin C, Vitamin A, Vitamin E, Boron, Chromium, Selenium, and Magnesium play vital antioxidant roles. Together supporting vision, teeth, gums, cell health, metabolism, and helping protect strength, muscle, and immunity.
Organic Ashwagandha, and Moringa
Two natural Adaptogen Nootropics that may help the body adapt to stress, and boost body and mind performance are Moringa, and Ashwagandha. We use the worlds best source of Ashwagandha, organic KSM-66.
Resveratrol and Green Tea Extract
Resveratrol and Green Tea Extract are a strong team. Resveratrol, the well known antioxidant found in grapes and red wine, may help protect the body against effects of stress. Green Tea Extract, may help with anti-inflammatory and anti-viral properties.
Organic NZ Barley Grass

Barley Grass is often used as a main active in supergreens powders. It contains minerals, phytonutrients, enzymes,and vitamins that can be easily absorbed. This natural green may help with strong antioxidant benefits, free radical scavenging, and may be used to aid stress, and help nourish health. 

Adaptogens Lemon Balm and Ginger Root
Lemon Balm and Ginger Root may help as natural ways to build stronger immunity, fight viral infections, and support the body and brain. Ginger Root may also aid in maintaining healthy cholesterol, as well as digestion.
L Carnitine Tartrate
Regular use of L Carnitine Tartrate may assist the body in recovery from exercise, and fat metabolism. Vegetarians, and people following more plant based or clean diets, may have depleted L Carnitine stores in the body. Supplementation may help normalise or increase these levels.
New Zealand Crafted

Perform Everyday Multi is proudly made in Aotearoa, using highest quality, selected local and imported ingredients, sourced from local suppliers.

How to use Perform Everyday Multi
Take Perform Everyday Multi consistently each day.
More benefits will usually be noticed with regular daily use.
It's recommended to take 3 capsules each day. Capsules can be taken in divided doses, or all at one time.
We recommend 2 capsules in the morning, and 1 capsule at midday. Alternatively, if it's simplest, taking only at a single time each day is ok.
Can be taken with or without food. 

Nutrition Information
Capsules Per Bottle: 90
Amount Per Capsule:
(Typical Analysis)
Organic Ashwagandha Root: 480mg
(Withania Somnifera 12:1)
Moringa Olifera Leaf: 250mg
(4:1)
Vitamin A: 488mcg (1625IU)
(Retinyl Acetate)
Vitamin B1: 4mg
(Thiamine Hydrochloride)
Vitamin B2: 4mg
(Riboflavin)
Vitamin B3: 10mg
Nicotinamide
Vitamin B5: 18mg
(D–Calcium Pantothenate)
Vitamin B6: 5mg
(Pyridoxal 5 Phosphate)
Vitamin B7 – Biotin: 100mcg
Vitamin B12: 10mcg
(Methylcobalamin)
Vitamin C: 100mg
(Ascorbic Acid)
Vitamin D3: 5mcg (200IU)
(Cholecalciferol)
Vitamin E: 10mg (15IU)
(d–alpha Tocopherol Acetate 50%)
Boron: 0.5mg
(Boron Glycinate 5%)
Chromium: 24mcg
(Chromium Picolinate 12%)
Copper: 650mcg
(Copper Gluconate 13%)
Magnesium Amino Acid Chelate: 100mg
(Equivalent Magnesium 20mg)
Selenium: 30mcg
(Selenomethionine 0.5%)
Zinc: 3mg
(Zinc Citrate 31%)
Resveratrol: 5mg

(Polygonum Cuspidatum 50%)
Green Tea Leaf: 850mg
(Green Tea Extract, Camellia Sinensis 98% 85:1)
Lemon Balm Leaf: 250mg
(Melissa Officinalis 10:1)
Ginger Root Extract: 60mg
(Zingiber Officinale 6:1)
Pure NZ Organic Barley Grass: 100mg
L Carnitine Tartrate: 100mg
Overall Rating

| | |
| --- | --- |
|  Mike's Rating |  ★  ★  ★  ★  ★  |
Warnings
Not for use by pregnant women.