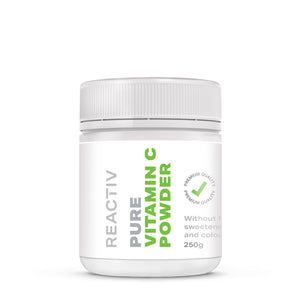 Regular price
$23.80
Sale price
$47.70
or 4 payments of $5.95 with
More info
100% Vitamin C powder
Free from other ingredients, unflavoured
The highest strength form of Vitamin C
Support natural immunity

Help speed training recovery

Easy to take powder form

Big value 250 serve tub
Vegan Approved Product
What is Pure Vitamin C Powder?
Pure Vitamin C Powder is a single ingredient, 100% Vitamin C supplement. It is very high strength. Unlike fat soluble vitamins which the body can store, Vitamin C is a water soluble vitamin – it doesn't stay in the body very long. Because of this reason, to benefit most from supplementation, it's recommended to take a Vitamin C supplement more often each day.  
Why take Vitamin C?
To help support immunity and the natural defences of the body, a Vitamin C supplement is one to put at the top of the list. We aren't able to synthesise Vitamin C in our bodies, instead it must be supplied completely from our diet. The storage methods of foods we eat, the way they are cooked, and the way our foods are grown and produced may make maintaining the amount of Vitamin C we need challenging. A good decision which may help assist with this is taking a Vitamin C supplement regularly. Apart from supporting stronger immunity, Vitamin C may also help support greater energy levels, and help you stay on top. 
What does Pure Vitamin C Powder contain?
Pure Vitamin C Powder contains 100% Vitamin C (Ascorbic Acid). Pure Vitamin C Powder is free from all other ingredients. 
What does Pure Vitamin C Powder taste like?
Pure Vitamin C Powder is free from flavourings and sweeteners, it naturally has a very zesty citrus flavour, similar to lemon juice. 
How to use Pure Vitamin C Powder
Take 1 quarter of a level teaspoon (1g), stirred into a cool drink or water, or added to and mixed with a smoothie or a shake. 
Nutrition Information
Servings Per Tub: 250
Serving Size: 1 quarter of a level Teaspoon (1g)

(Typical analysis)
Vitamin C: 1000mg
(Ascorbic Acid)
Overall Rating
| | |
| --- | --- |
|  Mixability |  ★  ★  ★  ★  ★  |
|  Taste |  ★  ★  ★     |
|  Mike's Rating  |  ★  ★  ★  ★  ★  |