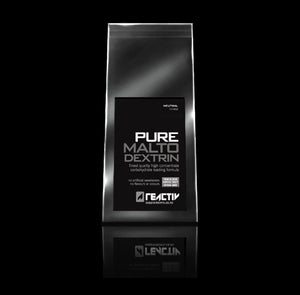 Regular price
$34.80
Sale price
$41.50
or 4 payments of $8.70 with
More info
Natural Maltodextrin Powder
Free–from additives and other ingredients
Support glycogen levels post workout
Help maximise uptake of nutrients
Easily digested carbohydrate loader
Vegan Approved Product
What is Pure Maltodextrin?
Reactiv Pure Maltodextrin is a premium quality, easily digested carbohydrate, made from natural corn starch. It's highly concentrated, without fat or protein. It's free–from added ingredients, flavours and fillers. All that's in the formula is 100% pure Maltodextrin powder.
Maltodextrin's are made up of glucose polymers produced by the depolymerisation of corn starch. They are categorised by 'Dextrose Equivalence' (DE). DE is a measure of reducing power compared to a dextrose equivalent of 100. The higher the DE, the greater the extent of starch depolymerisation, resulting in a smaller average polymer size. Maltodextrins are defined by the FDA as products having a DE less than 20. Reactiv Pure Maltodextrin has a unique DE of 10.
You may have noticed that Maltodextrin is often the first ingredient used in off the shelf 'weight gainer' powders, and energy replacement drinks. Maltodextrin can be used as an easy to consume, clean calorie source when seeking to increase mass and gain weight. Maltodextrin's easy digestion means it's also great assistance for energy for endurance sports and activities that require lots of physical exertion.
How To Use Pure Maltodextrin
Due to Maltodextrin being a highly concentrated form of carbohydrates, it's the perfect tool for when you need to 'Carb Up' or 'Carb load'. Carbing up / Carb loading is the technique used by bodybuilders to achieve harder, more full and vascular muscles for a show, or when they are carbohydrate cycling. This is also the same process endurance athletes use to load muscles with carbohydrates in preparation for training or competition.
What does Maltodextrin taste like?

Reactiv Pure Maltodextrin has a close to neutral taste (it's not sweet like Dextrose), and mixes easily in water and shakes. Although technically a complex carbohydrate, the 'Glycemic Index' (GI) of Maltodextrin's in general should be considered high. This makes it a helpful 'transporter' for Micronised Creatine, Pure Glutamine, Amino Acids, and Protein supplements.
Please note Maltodextrin's are not made from and do not contain Malt.
Nutrition Information
Serving Size: 50g
Energy: 783kj / 196kCal
Protein: 0g
Carbohydrates: 49.6g
Sugars: 4.5g
Fat: 0g
Sodium 0g
Ingredients
100% Pure Maltodextrin Powder
Resealable Pack
Pure Maltodextrin is packed in a 1.11kg size resealable pack. Need more? Please check out the multi–pack bulk buying options.
Overall Rating
| | |
| --- | --- |
|  Mixability |  ★  ★  ★  ★  ★  |
|  Taste |  ★  ★  ★  ★  ★    |
|  Mike's Rating  |  ★  ★  ★  ★  ★  |