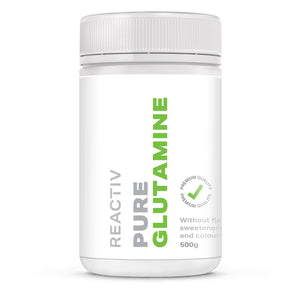 Regular price
$55.80
Sale price
$87.50
or 4 payments of $13.95 with
More info
Carefully made by Fermentation

Additive and flavour free
Support muscle and exercise recovery
Help build a strong immune system
Assist gut and digestive health

Vegan Approved Product
What is Pure Glutamine?
L–Glutamine, the most abundant amino acid in human muscle, provides many essential functions in the body. After intense exercise, or periods of stress, our body's L–Glutamine levels may be reduced significantly. Supplementing with L–Glutamine may help protect muscle, and help support the immune systems ability to fight infection and disease.
Glutamine for muscle, strength and immunity

During intense exercise, such as weight training or endurance activity, L–Glutamine may be depleted from muscle leading to muscle tissue degradation. Bodybuilders, rugby players, marathon runners, endurance athletes, cyclists, CrossFit trainers, and boxers use L–Glutamine to help develop and maintain muscle and strength while staying healthy.
Respiratory infections have been shown to be much more likely for hard training athletes – infection rates may drop for athletes who use L–Glutamine, and also may help show improved muscle strength recovery rates from training.
Glutamine for gut health support
An integral role may be played by L–Glutamine in maintaining a healthy digestive system, which may help in improving the absorption of nutrients we eat.
To maintain optimum immune system function, health, and training progress, L–Glutamine may assist as easy to take natural support.

What does Reactiv Pure Glutamine contain?
We use only 100% Fermented Pure L–Glutamine powder. There is nothing added – it's free–from flavours, colours, and preservatives.
How to use Pure Glutamine
Take 1 serve, 2 to 4 x per day with water, juice, or a shake. As soon as possible following training is the most important time to take Pure Glutamine.
To help with muscle support, 30 minutes before bed is another good time.
Using Pure Glutamine with Micronised Creatine, and Beta Alanine may help produce optimum results.
Nutrition Information
Serving Size: 1 Teaspoon (5g)
100% Free Form L–Glutamine (Fermented)
| | |
| --- | --- |
|  Mixability | ★  ★  ★  ★      |
|  Taste |  ★  ★  ★      |
|  Mike's Rating  |  ★  ★  ★  ★  ★  |