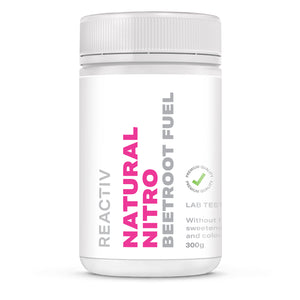 Natural Nitro Beetroot Fuel
Regular price
$31.80
Sale price
$58.80
or 4 payments of $7.95 with
More info
Whole–food Beetroot Powder
Independently tested for natural Nitrate
Additive free – Unflavoured
Nutrient rich, natural training fuel
Help muscles work harder and recover
Assist endurance and strength

Vegan Approved Product
What is Natural Nitro?
Natural Nitro is a pure Whole–food Beetroot Powder, that provides a rich source of natural Nitrate, and health support. Once consumed, Natural Nitro may help fuel greater Nitric Oxide production in the body. 
Supplementing Beetroot powder is a popular, natural method, used to help support improved muscle performance, strength, and endurance. Natural Nitro is a 100% Whole–food Beetroot Powder that we independently test to verify Nitrate content. It's free from added ingredients. 
How can Natural Nitro help?
When Natural Nitro fuels the body, it plays a number of roles. 
These may include helping to:
– Positively support muscle contraction
– Support cardiovascular endurance
– Aid quicker recovery time
– Assist mind muscle connection
The combined benefits of Natural Nitro may help you increase the intensity of your training – or help give you the edge when in competition.
Why Whole–food Beetroot?
For supporting health, Beetroot is one of nature's most nutritious foods. It's also one of the most helpful for athletic performance. Eating enough Beetroot to help you train harder takes a lot though. This is why athletes use Beetroot Powder instead. The 2 main Beetroot Powder sources used are either from Whole–food Beetroot, or Beetroot juice.
We use Whole–food Beetroot. Whole–food Beetroot Powder is minimally processed and the closest to nature, retaining the natural, healthy benefits. These include the vitamins, minerals, antioxidants, fibre, and the Nitrate. All of these properties working together may support optimum uptake in your body. Beetroot juice powder on the other hand is only made from the juice. The juice processing strips out health benefits naturally in Beetroot, and concentrates the sugar content instead.
Independently Tested
Athletes mainly use Beetroot Powder for its Nitrate, we independently test Natural Nitro, to verify Nitrate content. Due to variations in Beetroot products, for sports performance, it's an important step to confirm Nitrate.
See below to work out how much Natural Nitro to use to suit your goals.
How to use Natural Nitro
General Use: To support everyday health and wellbeing, take 1 to 2 heaped teaspoons (5g to 10g) each day, mixed into water, or a smoothie.
Pre–Workout Use: Take 3 heaped teaspoons (15g), mixed into water, or a smoothie. Take 3 hours before working out.
Sports Event Use: Take 7 to 8 heaped teaspoons (35g to 40g), mixed into water, or a smoothie. Take 3 hours before event. For greater results, a loading method can be used – take this same amount daily for 5 days (or more) leading up to the event. If preferred, the daily dose can be split into multiple serves each day.
Important Notes 
Avoid using mouthwash, toothpaste, or chewing gum around the time you take your Natural Nitro (they may reduce the benefits).
Just like you may experience when eating Beetroot, temporary pink pigmented urine and stools may follow the use of Natural Nitro.
What does Natural Nitro contain?
Contains only pure Whole–food Beetroot Powder. Nothing else is added. Free from additives, flavours, sweeteners, colours, preservatives, and fillers. Plant based friendly.
Nutrition Information
*Typical analysis
Serving Size: 1 Heaped Teaspoon (5g)
Energy: 55kj / 13kCal
Protein: 0g
Carbohydrates: 2.6g
Sugars: 2.6g
Fat: 0g
Saturated Fat: 0g
Sodium: 0mg
Dietary Fibre: 1.3g
Nitrate: 53mg
Ingredients
Whole–food Beetroot Powder (Independently tested, natural variations may occur).
Overall Rating
| | |
| --- | --- |
|  Mixability |  ★  ★  ★  ★  ★        |
|  Taste |  ★  ★  ★         |
|  Mike's Rating  |  ★  ★  ★  ★  ★  |