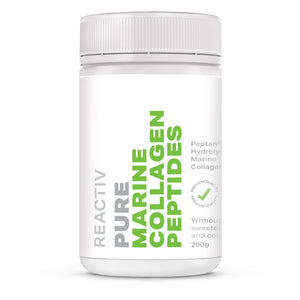 Pure Marine Collagen Peptides
Regular price
$54.80
Sale price
$97.80
or 4 payments of $13.70 with
More info
Hydrolysed Marine Collagen Peptides Powder
Support healthy skin and joints
Peptan® brand from France
Free–From other ingredients
Unflavoured Pure Marine Collagen Peptides
Pure Marine Collagen Peptides is an ultra pure, hydrolysed marine collagen powder, that we leave unflavoured. We keep it Free–From added ingredients. Hydrolysation is a step used to convert collagen (which normally forms a gel) into smaller pieces called peptides. This is to help make it easier for the body to digest, absorb, and utilise than non–hydrolysed forms. 
Finest Quality Peptan® Marine Collagen
Peptan®, is the worlds leading marine collagen brand. It's made under Rousselot in France, and it's what we use for our Pure Marine Collagen Peptides. Peptan® collagen peptides are specifically made to help support a broad range of health benefits. 
What is Collagen used for?
Collagen is the most abundant protein in the human body. In the body collagen is used to form skin, tendons, ligaments, bones, cartilage, blood vessels, and gums. Collagen has become one of the most popular nutrition supplements due to the major role it plays in helping to strengthen and maintain healthy skin, as well as for joint health and connective tissue support.
Our natural collagen levels decrease with age, and from the effects of environmental factors such as exposure to sunlight and poor diet. For this reason supplementing it at least once daily into everyday eating has become widely relied upon.
Collagen sports benefits
To improve our level of fitness and strength it's important to follow a regular exercise plan. We usually first think of supporting our muscles, especially following training, to help speed recovery. Training also puts a load on and increases the risks of injuries to our tendons, ligaments, joints, and bones. It's important to think about the strength and recovery of our joints and connective tissue. Pure Marine Collagen Peptides are a simple way to help support your overall musculoskeletal system.
Easy to use and drink Collagen
Pure Marine Collagen Peptides is an easy to take, neutral tasting, neutral odour collagen supplement. It can be dissolved in a glass of water by stirring, or stirred into coffee, tea, juice, or added to smoothies. It can also be included in other recipes. Being heat resistant, it's ok for use in your cooking and baking, for the same benefits.
Use
Take 1 teaspoon (4g), 1 to 2 x per day.
Nutrition Information
Serving Size: 1 Teaspoon (4g)
100% Pure Hydrolysed Marine Collagen Peptides (Peptan®) (from Fish)
Allergens Warning: Contains Fish
Overall Rating
| | |
| --- | --- |
|  Mixability |  ★  ★  ★  ★  ★  |
|  Taste |  ★  ★  ★  ★    |
|  Mike's Rating  |  ★  ★  ★  ★  ★  |