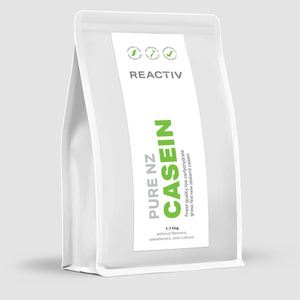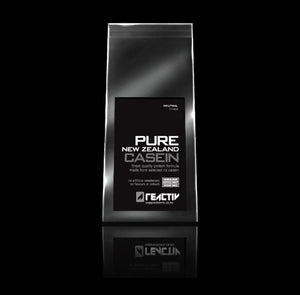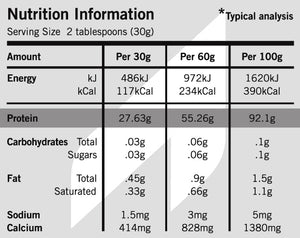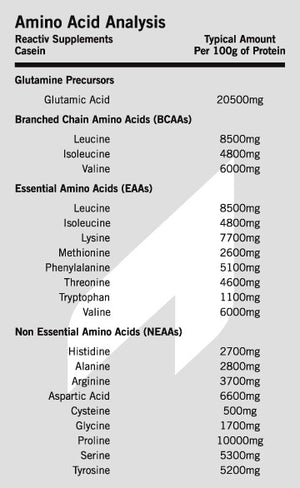 Regular price
$77.80
Sale price
$92.80
or 4 payments of $19.45 with
More info
Natural NZ Casein Protein Powder
Additive and flavour free
The leanest, lowest calorie instantised Casein, ideal for dieters 
Best slow release and bedtime protein
Great option for lactose sensitive
Ultra low fat, and low carbohydrate
Please Note: 100% Casein, mixes up extremely thick, like mousse.

What is Pure NZ Casein?
Pure New Zealand Casein, is a 100% Casein protein supplement, it's termed a 'slow' protein due to the very long time it takes to digest. Much longer than all other protein powders. Genuine 100% Casein products mix up very, very thick (this is one way to identify real 100% Casein). Pure NZ Casein is carefully made from fresh New Zealand grass fed milk, to create an extremely high protein concentration (similar to that of Whey Isolate). It contains high natural levels of BCAAs (Branched Chain Amino Acids), and virtually zero fat and carbohydrates (lactose) per serve. Because it contains close to zero lactose it makes it a great option for those that are usually sensitive to milk. The protein percentage in Pure New Zealand Casein is around 92% (or 97% by dry basis).

Having such an ultra low carbohydrate and ultra low fat content, Pure New Zealand Casein is often a first choice for bodybuilders, physique competitors or dieters who are paying meticulous attention to calorie intake. It's also often used as a 'night time' protein, taken before bed to provide a steady and sustained release of protein during sleep hours.
New Zealand Made Casein
Reactiv Pure New Zealand Casein comes from milk sourced from local kiwi farms, and is proudly made here in New Zealand.
How To Use Casein Protein
Reactiv Pure New Zealand Casein mixes best with water in a blender. When compared to Whey, it mixes up very, very thick. If you prefer less thickness then use more water and less powder. Due to its super thick consistency it can take some work to master mixing it, but when successful it has a smooth texture that is satisfying and filling. It also makes a great ingredient to make high protein mousse and dessert ideas.
Packaging
We use lightweight resealable packaging, and mini tubs.
Ingredients
100% Calcium Caseinate (from New Zealand Milk), Monoglycerides (E471 – may contain trace Soy).
Overall Rating
| | |
| --- | --- |
|  Mixability |  ★  ★  ★  ★    |
|  Taste |  ★  ★  ★      |
|  Mike's Rating  |  ★  ★  ★  ★  ★  |