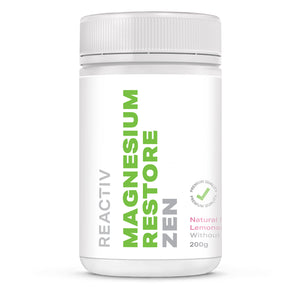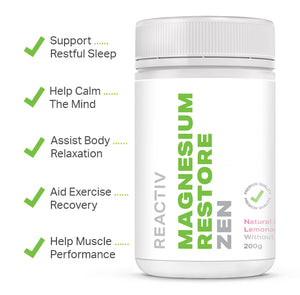 Regular price
$47.80
Sale price
$63.90
or 4 payments of $11.95 with
More info
NEW IMPROVED Magnesium Formula with Magnesium Glycinate, 'The Sleep Help Magnesium'!
Better tasting and mixing, delicious Raspberry Lemonade flavour
STRONGER help with restorative sleep
INCREASED muscle recovery assistance
MORE relaxation and calm mind support
Vegan Approved Product
What is Magnesium Restore Zen?
Magnesium Restore Zen is a carefully crafted, natural drink powder mix using healthy, body and mind friendly, kinder to your stomach forms of Magnesium. Its unique formula is here to help relax mind 'n muscles, aid deeper sleep – plus assist active living, and workout recovery. We've added natural Tart Cherry, for support managing muscle, joint, and body soreness, as well as for help to decrease exercise muscle damage. Tart Cherry may make an excellent, restful sleep aid too. Natural Lemon Balm is also inside, teaming up help for soothing aches and pains, and calming the mind.
When mixed with water, Magnesium Restore Zen has a newly formulated, easy to drink natural, raspberry lemonade flavour, with excellent mixability. It may help provide fast support for Magnesium levels reduced through exercise or active living. Magnesium Restore Zen is recommended to be taken at times when recovery help is important. It makes ideal support for better health and training progress, as well as help for relaxing body and mind, and deeper, restful sleep.
What is a Magnesium supplement used for?
Magnesium is regarded by athletes in particular, as a supplement that may help with muscle performance, recovery from workouts, energy levels, and for strengthening immunity. When working out regularly, maintaining optimum Magnesium levels in the body may help you train harder, and prevent reduced performance and health. Supplementing this important mineral is a great way to support an active lifestyle.
Magnesium to wind down
The refreshing benefits of Magnesium don't end with training. It's also a great way to help 'chill' your mind, and your body. The inclusion of Magnesium Glycinate, Tart Cherry and Lemon Balm is to assist in greater overall relaxation. To help support better rest, take a serving later in the evening.
What does Magnesium Restore Zen contain?
For optimum support, a blend of three specific types of Magnesium are used. Magnesium Glycinate (the 'Sleep and Calming Help Magnesium' form), Magnesium Citrate (the 'Complete Body Health Magnesium' form), and Magnesium Phosphate (the 'Muscle Relaxation Magnesium' form). Vitamin C is also included, to help support maximum recovery benefits, along with Tart Cherry, Beetroot, and Lemon Balm. For an all natural, delicious taste, we use natural flavours, and Stevia to sweeten.
How to use Magnesium Restore Zen
Stir 1 heaped teaspoon into a glass of water, it's great tasting and easy to drink. To support rest and recovery, take 1 serve post workout or later in the evening. Take 1 to 1.5 serves per day.

How to get more from a Magnesium supplement
For maximum benefits, combining both Magnesium Restore Zen and Zinc Matrix together may help even more. For this purpose take both together later in the evening. 
Vegan suitable Magnesium formula
The ingredients used are all Vegan approved. The formula has been designed to be a suitable support choice when following plant based eating.
Nutrition Information
Serving Size: 1 Heaped Teaspoon (5g)
Servings per tub: 40
(Typical analysis)
Magnesium Glycinate: 425mg
(Equiv. Magnesium 85mg)
Magnesium Citrate: 425mg
(Equiv. Magnesium 68mg)
Magnesium Phosphate: 400mg
(Equiv. Magnesium 80mg)
Vitamin C: 300mg
(Ascorbic Acid)
Beetroot: 300mg
Tart Cherry Powder: 200mg
Lemon Balm: 100mg
(Equiv. Melissa Officinalis 1000mg)
Flavour Ingredients: Dextrose, citric acid, natural flavours, stevia
100% Vegan. Non GMO. Additive free.
Made without dairy, artificial flavourings, artificial sweeteners, and artificial colours.
Overall Rating
| | |
| --- | --- |
|  Mixability |  ★  ★  ★  ★  ★  |
|  Taste |  ★  ★  ★  ★  ★ |
|  Mike's Rating  |  ★  ★  ★  ★  ★  |