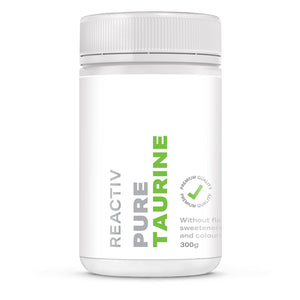 Regular price
$33.90
Sale price
$52.90
or 4 payments of $8.48 with
More info
Additive and flavour free
Help volumise muscle cells
Support mental focus

Assist lactic acid control
Vegan Approved Product
What is Pure Taurine?
You may recognise Taurine as one of the highly promoted natural energy lifting ingredients included in commercial energy soft drinks. Taurine is a conditionally essential and naturally occurring amino acid stored in high amounts in human muscle (the second most abundant after Glutamine). It's also thought that Taurine is the most abundant amino acid found in the muscle fibers activated for explosive power activities (the Type II muscle fibers).
As well as helping with energy, Taurine may act in a similar way to Creatine by helping the muscle cells hold more water (through cell volumisation). Cell volumisation is the holy grail for serious trainers wanting maximum lean muscle and strength gains.
How Taurine helps support muscle
Exercisers supplement Taurine to help develop lean muscle, build strength, explosive power, and protect muscle from breakdown. It's also used to assist recovery from training.
Regular exercise may reduce Taurine levels in muscles significantly. Supplementation may be helpful for maintaining optimum Taurine stores. The common reported benefits of Taurine supplementation include improved endurance ability, greater strength and muscle gains, as well as increased focus and cognitive performance. Taurine is also supplemented to help reduce the occurrence of muscular cramps.
What does Reactiv Pure Taurine contain?
Contains 100% Pure Active Taurine powder. This is a pure powder, free from additives, flavours, colours, and preservatives.
How to use Pure Taurine
Take 1 level teaspoon (2g) mixed in water or a drink. Take 1 - 2 serves per day.
Nutrition Information
Serving size: 1 level teaspoon (2g)
100% Taurine
Overall Rating
| | |
| --- | --- |
|  Mixability |  ★  ★  ★  ★  ★  |
|  Taste |  ★  ★  ★  ★    |
|  Mike's Rating  |  ★  ★  ★  ★    |