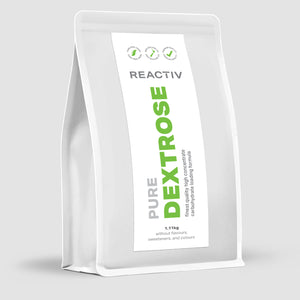 Regular price
$32.80
Sale price
$38.50
or 4 payments of $8.20 with
More info
Natural Dextrose Powder
Additive and flavour free
Very high GI carbohydrates
Help boost glycogen and energy
Support fastest uptake of nutrients
Vegan Approved Product
What is Pure Dextrose?
Reactiv Pure Dextrose is a premium quality simple carbohydrate powder. It's a concentrated carbohydrate energy source, containing zero fat and protein, that's easily digestible. It's free–from added ingredients like flavours or fillers – all that's in the formula is 100% pure Dextrose.
Fast Carbohydrates
Carbohydrates are referred to as either 'simple' or 'complex' carbohydrates. Dextrose (also known as glucose) is a 'simple' carbohydrate. It is used commercially as a sweetener in foods and drinks. It has a very high 'Glycemic Index' (GI) measure which means it may raise blood sugar levels quickly. Bodybuilders and endurance athletes believe this ability can help increase physical performance and recovery by transporting more nutrients, faster into muscles. Dextrose is often used to help increase uptake by the body of Creatine, and amino acids like Beta Alanine, L-Arginine, L-Carnitine, L-Glutamine, BCAA's, and Whey protein powder.
Dextrose is suitable for anyone seeking increased energy levels, this is why it is often the main ingredient added to popular energy drinks. Consumed before, during, or after training Dextrose might help increase endurance and strength by providing more 'raw' energy, as well as help speed up the muscle repair process afterwards. Sipping a Dextrose drink during training may help maintain muscle endurance and offset the onset of fatigue. If your aim is to achieve maximum nutrient uptake post training then Dextrose may be the perfect addition to your post workout shake.
How To Use Pure Dextrose
A 50 / 50 combination of Dextrose mixed together with Maltodextrin makes the ideal carbohydrate recipe to consume post workout. For bodybuilders this carbohydrate blend should be mixed 1:1 or 2:1 with Whey protein. Endurance athletes will benefit from a higher carb to protein ratio (2:1 to 4:1).
Due to Dextrose being a highly concentrated form of carbohydrates it's a great tool for when you need to 'Carb Up' or 'Carb load'. Carbing up / Carb loading is the technique used by bodybuilders to achieve harder, more full and vascular muscles for a show, or when they are carbohydrate cycling. This is also the same process endurance athletes use to load muscles with carbohydrates in preparation for training or competition.
Reactiv Pure Dextrose has a sweet taste and mixes easily in water and shakes.
Nutrition Information
Serving Size: 50g
Energy: 783kj / 196kCal
Protein: 0g
Carbohydrates: 49.8g
Sugars: 49.8g
Fat: 0g
Sodium 0g
Ingredients
Eco Friendly
We want to play a role in helping protect our environment. Part of this philosophy is utilising environmentally friendlier packaging. Our pack system creates considerably less landfill than comparable plastic tubs, and has a significantly smaller carbon footprint.
Overall Rating

| | |
| --- | --- |
|  Mixability |  ★  ★  ★  ★  ★  |
|  Taste |  ★  ★  ★      |
|  Mike's Rating  |  ★  ★  ★  ★    |