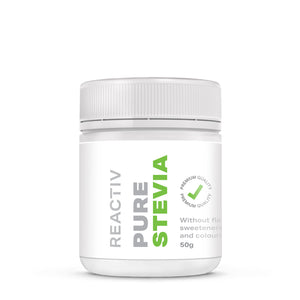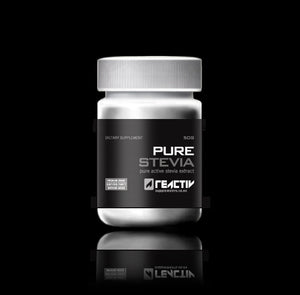 Regular price
$39.80
Sale price
$54.90
or 4 payments of $9.95 with
More info
Natural and additive free
Natural alternative to artificial sweetener
A great way to remove sugar calories
Use for shakes, baking, and on cereal
Vegan Approved Product
What is Pure Stevia?
Pure Stevia is a very high quality, natural, non-caloric sweetener produced from the extract of the Stevia plant. Stevia plant has been used for centuries throughout South America for it's amazing qualities to enhance the sweetness of drinks and other foods. Today it is also widely used in Asia for the same purpose. It is an ideal, natural alternative to artificial sweeteners - as well as sugar, without the calories.
Pure Stevia packs incredible sweetening ability - it has up to 300 times the sweetness of table sugar. For this reason only very small amounts of Stevia are required. Stevia is extremely heat stable and can be used in your cooking and baking.
What does Reactiv Pure Stevia contain?
Contains a highly purified extract of Stevia called Rebaudioside A (Rebaudiana or Reb A). It's one of the most concentrated forms of Stevia, and provides a cleaner taste than other types, and great value. This is a pure powder without additives, flavours, colours, or preservatives.
Use
Due to the extreme sweetness only a very small amount of Pure Stevia is required. Just the tip of a teaspoon per shake is all that is normally needed. Experiment to find the sweetness level that suits your own taste. You can use Pure Stevia to replace sugar on your breakfast cereal, in tea and coffee, for smoothies, in your baking, and for any other regular cooking application.
Nutrition Information
Serving Size: 1/10 Level Teaspoon (100mg)
Pure Stevia Rebaudiana Extract (Rebaudioside A 90%)
Overall Rating
| | |
| --- | --- |
|  Mixability |  ★  ★  ★  ★  ★  |
|  Taste |  ★  ★  ★  ★    |
|  Mike's Rating  |  ★  ★  ★  ★  ★  |