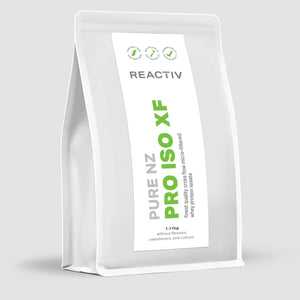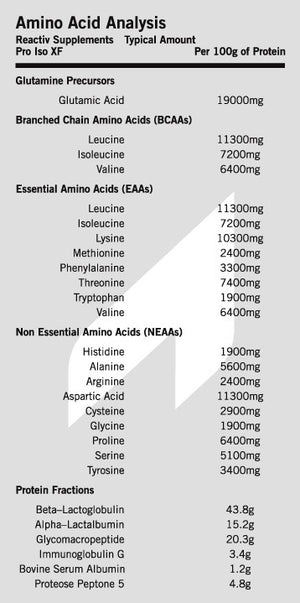 Regular price
$84.80
Sale price
$104.80
or 4 payments of $21.20 with
More info
– LIMITED STOCK AVAILABLE
Natural NZ Whey Isolate 
Soy free – Additive free – Flavour free

The most health supportive and best tasting Whey Isolate
Made by Cross Flow Micro-Filtration
Close to zero lactose, carbs, and fat
From free range, grass-fed NZ dairy
Lacto–Vegetarian Approved Product
Cross Flow Micro–Filtration Whey Isolate
Pure New Zealand Pro Iso XF is a type of Whey Isolate produced using Cross Flow (XF) Micro-Filtration. This particular form of Whey Protein Isolate is considered by the sports nutrition industry to be the pinnacle of Whey protein supplementation. This is why it's often referred to as the gold standard of Whey.
Cross Flow Micro-Filtration produces an exceptionally pure Whey retaining the highest levels of active, health supportive ingredients, and undenatured protein. For the lowest calorie, most biologically active Whey Isolate, this is the one to go for. If you are dieting hard, training hard, and want to feel at your peak this unique Whey Isolate is the best option. 
CFM Whey Isolate For Health
Cross Flow Micro-Filtration (CFM) is a natural, non-chemical process that uses industry leading, low temperature technology to preserve healthful components found naturally in whey. Maintaining a high protein percentage with very low lactose and fat, CFM Isolate is renowned for its additional health benefits over other Whey Isolates.
Natural NZ Made Whey Isolate
Pure New Zealand Pro Iso XF is New Zealand made, from milk from local dairy farms. In New Zealand we have laws in place to protect cows and prevent farmers from using hormones to boost milk production. This means our cows are a lot healthier than their overseas counterparts. Overseas, cows are regularly given growth hormones so that they can make milk at a faster rate. This causes unwanted side effects and makes the cows unhealthy. It's also considered that the hormones used to accelerate milk production may transfer into the milk from these cows.
Made Without Soy
Pure New Zealand Pro Iso XF is free from Soy Lecithin. Soy Lecithin is an ingredient, called an instantiser, often added to protein powders to help them mix easily when added to water or liquid. Instead, Pure NZ Pro Iso XF uses Sunflower Lecithin. Sunflower Lecithin is often used as a standalone supplement to help support better health, digestion, and brain function.
How To Use Pro Iso XF
Pure New Zealand Pro Iso XF mixes well with a shaker. It has a better consistency than other Whey Isolates. This is because Whey Isolates, being very low in fat and carbohydrates, generally have very light consistency and not much body to them. If this is a factor for you then Pure NZ Pro Iso XF is the best choice out of the unflavoured Whey Isolates. It has a more 'milk' like consistency.
Packaging
We use resealable packs and mini tubs.
Ingredients
100% Cross Flow (XF) Micro-Filtration Whey Protein Isolate (from New Zealand Milk), Instantiser (Sunflower Lecithin).
Overall Rating
| | |
| --- | --- |
|  Mixability |  ★  ★  ★  ★  ★  |
|  Taste |  ★  ★  ★  ★  ★     |
|  Mike's Rating  |  ★  ★  ★  ★  ★  |