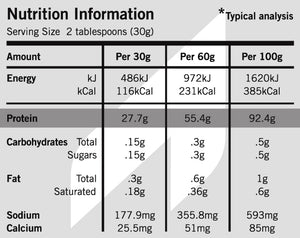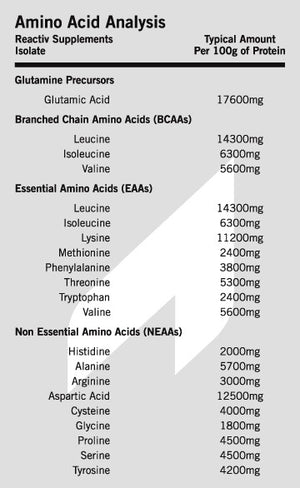 Regular price
$83.80
Sale price
$97.80
or 4 payments of $20.95 with
More info
Natural NZ Whey Isolate
Soy free – Additive free – Flavour free
The lowest calorie whey – ideal for dieters
Best Whey for the lactose sensitive
Close to zero fat and carb content 
Our highest protein percentage Whey
Lacto–Vegetarian Approved Product
What is Pure NZ Isolate?
Pure New Zealand Isolate is an extremely high protein percentage Whey Protein Isolate (WPI). Specialised production techniques make Whey Isolates the most expensive to make. They are highly sought after, especially by those with serious bodybuilding or weight loss goals, or by those people who want to use a Whey supplement with the lowest lactose content. Anyone who is counting calories meticulously will usually benefit most from choosing this Whey Isolate form.
Pure New Zealand Isolate is produced by a leading 'Ultra Filtration' method. The result is a protein percentage that's extremely high. If you are looking for the highest protein content Whey, with the very lowest possible amounts of carbohydrates, lactose and fats, this is the best one to go for.
The Lowest Carbohydrate Whey Isolate
Pure New Zealand Isolate is an extremely clean source of protein, with virtually zero fat, and carbohydrates (lactose) present per serve. It is the lowest carbohydrate Whey Isolate currently produced in any New Zealand dairy factory. This makes it the best choice for use on a Ketogenic, or carbohydrate restricted diet. This also makes it the best option if you want to avoid lactose but still want complete support from a Whey protein.
Safe Grass Fed Whey Isolate
Pure New Zealand Isolate is made from fresh New Zealand cows milk, in New Zealand. It is unflavoured and has zero additives, flavours, or sweeteners added. Pure New Zealand Isolate is also free from hormones that are often contained in sports supplements that use dairy from overseas. New Zealand laws don't allow the use of hormones for boosting milk production in cows. This law keeps the cows healthier, and the milk quality higher. New Zealand cows roam and graze freely on grass which also contributes to much healthier milk, as opposed to the dry feed diet that overseas livestock live on.
Soy Free Whey Isolate
Pure New Zealand Isolate is free from Soy Lecithin (the most often used instantiser in protein supplements). Instantisation is the method used at the dairy factory to help protein powders mix more easily when added to water or liquid. Pure NZ Isolate uses Sunflower Lecithin instantiser instead. Sunflower Lecithin's health properties are used to help with neurological support. 
Highest BCAAs content Whey
Whey protein powders are great sources of Branched Chain Amino Acids, or BCAAs. The BCAAs are the amino acids that contribute the most to lean muscle protection, recovery, and development. Compared to other protein types including other types of Whey, Pure NZ Isolate has higher BCAAs content. This makes it a great supplement to use before, during, or after training, when fastest uptake of BCAAs is best suited. If you would like faster recovery from your training, make sure to have a Pure NZ Isolate shake as soon as possible after finishing your workout.
How To Use Pure NZ Isolate
Reactiv Pure New Zealand Isolate will mix up best with a hand protein shaker or electric blender. The flavour is neutral, and the consistency is very light. It's great blended with other smoothie ingredients to make a shake, or for easy flavour just add some of our 'Flav A Shake' flavour system when you make it. Please note that because this form of Whey has had virtually all of the fat and carbohydrates removed, it has a much lighter to drink mouth feel and taste.
Packaging
The packaging style that we use are resealable bags, and mini tubs.
Ingredients
100% Ultra Filtration Whey Protein Isolate (from New Zealand Milk), Instantiser (Sunflower Lecithin).
Overall Rating
| | |
| --- | --- |
|  Mixability |  ★  ★  ★  ★  ★  |
|  Taste |  ★  ★  ★      |
|  Mike's Rating  |  ★  ★  ★  ★  ★  |