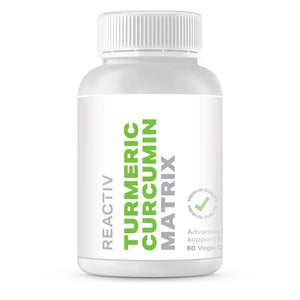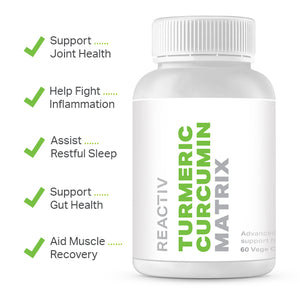 Regular price
$36.80
Sale price
$54.80
or 4 payments of $9.20 with
More info
Curcumin Extract, boosted with Whole–food Turmeric and Piperine
Aid joint health, and faster muscle recovery from exercise
Help the fight against inflammation, joint pain and stiffness
Support immunity, digestion and a healthy gut
Vegan Approved Product
Big value 60 serve bottle
What is Turmeric Curcumin Matrix?
Turmeric Curcumin Matrix is an easy to take, plant based diet friendly capsule, bringing together the natural benefits of a Turmeric Whole–food source, with a high strength Curcumin Extract, and Black Pepper Piperine into one formula. 

What is Turmeric?
Turmeric, as a whole–food, has been used for nearly 4000 years as natural help for supporting joints, building strong immunity, restoring energy, healing, wellbeing, and alleviating inflammatory conditions such as joint discomfort, joint mobility, and back pain. It's known for its nutrient dense properties, and its ability to help support the body to keep it strong and healthy. Turmeric contains a potent active ingredient, called Curcumin. Turmeric and Curcumin have both become go to help for supporting all round health. They are very popular for helping with joint and connective tissue health.
What is Curcumin Extract?
Curcumin is the most well known active ingredient in Turmeric. It is regarded as the active that offers the main assistance for helping with joint and connective tissue support, inflammation, digestive health, immunity, and recovery from exercise. Today Curcumin is extracted from Turmeric in different concentration levels, for its health benefits.
As a concentrated extract Curcumin may help health to a much greater degree. The extract concentration used to make Turmeric Curcumin Matrix is standardised to 98%. This makes it very pure, and a very high level of concentration.
What is Black Pepper Piperine?
Piperine is an active ingredient in Black Pepper. Piperine is extracted from Black Pepper for use as a nutritional aid. Piperine has health benefits of its own, including assistance for inflammation, cognitive function, allergies, and blood pressure. 
Why take Piperine with Curcumin?
Curcumin in Turmeric is generally not well absorbed by the body. Even more so when it's made into an extract. Research supports that when Piperine is taken along with Curcumin (and/or Turmeric), it may help increase uptake of the Curcumin into the body (by 2000%).
What about Turmeric Whole–food Powder?
Curcumin is only one of the family of actives in Turmeric, called Curcuminoids. Curcuminoids are what give Turmeric its vibrant yellow colour. The media has mainly singled out Curcumin Extract, but Turmeric as a whole–food, with its complete Curcuminoids and components may offer a myriad of additional health benefits as well. As a whole–food, Turmeric contains nutrients that, along with assisting the uptake of Curcumin, may contribute to all round body support. For optimising benefits from Curcumin Extract, a useful dietary hack is to team up whole–food Turmeric at the same time as taking Curcumin Extract.
The health benefits of Curcumin, and Turmeric, have been achieved for thousands of years from its natural whole-food Turmeric form. By combining the century proven benefits of whole–food Turmeric, the modern concentration benefits of a 98% Curcumin Extract, and the synergy of Black Pepper Piperine, Turmeric Curcumin Matrix is a complete Turmeric supplement.
Plant Based diet friendly with Vege capsules
Turmeric Curcumin Matrix is a plant based diet friendly formula, and Vegan suitable. A compact vegetable capsule is used, completely free from animal derived ingredients, colourings, flavourings, and preservatives. 
How to use Turmeric Curcumin Matrix
For general health benefits help take 1 capsule daily. 
For faster muscle recovery from exercise help take 2 to 4 capsules post workout.
For more restful sleep help take 1 to 3 capsules, 1 hour before bed.
For help with joint health take 2 to 4 capsules daily.
Nutrition Information

Servings Per Bottle: 60
Serving Size: 1 Vege Capsule
(Typical analysis)
Turmeric Curcumin Extract: 6250mg
(98% Curcumin, 25:1 Extract)
Turmeric Whole–food Powder: 350mg
(3% Curcumin)
Black Pepper (Piper Nigrum): 2.5mg
(95% Piperine)
Vegan Friendly. Free from dairy, preservatives, flavourings, and colours.
Overall Rating
| | |
| --- | --- |
|  Mike's Rating |  ★  ★  ★  ★  ★  |