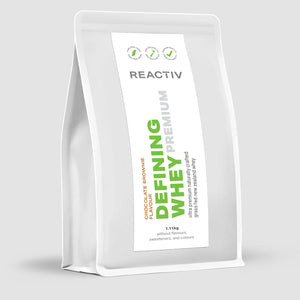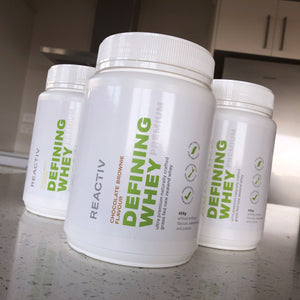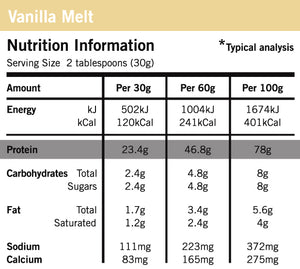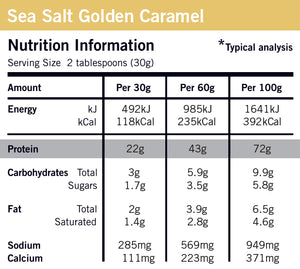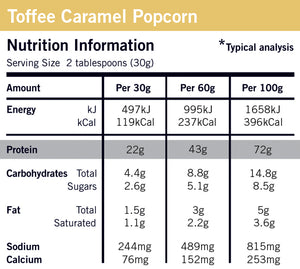 Regular price
$76.80
Sale price
$98.90
or 4 payments of $19.20 with
More info
Luscious Chocolate Brownie, Vanilla Melt – and indulgent Sea Salt Golden Caramel
All natural, low calorie shake
Grass fed New Zealand Whey Protein
Mouth-watering fresh flavours
Export quality finest NZ Whey
Naturally crafted clean, local protein
Lacto–Vegetarian Approved Product
Healthy Flavoured NZ Whey
Defining Whey Premium is a delicious tasting Whey supplement, for hard working, discerning protein shake drinkers. It's been specially developed to support demanding living, as well as offer satisfying flavours – without nasty additives, or extra calories. For highest quality Whey, and taste you will want to enjoy every day, this is a safe, healthy choice for performance body support.
Chocolate, Vanilla – and Sea Salt Golden Caramel
Our naturally pure recipe begins with fresh, grass fed New Zealand Whey Concentrate. Carefully batch–blended with natural Stevia to sweeten, we then add clean, finest flavour ingredients, for a shake you will look forward to. Crafted to satisfy cravings – Chocolate Brownie, Vanilla Melt, and Sea Salt Golden Caramel, set a high standard for taste, physical support, and healthy shake purity. It's free from fillers, preservatives, sugars, artificial sweeteners, and all other additive ingredients. If you enjoy Salted Caramel flavour, try the new Sea Salt Golden Caramel, it has a full Golden Caramel taste along with a dash of Organic NZ Sea Salt. The perfect duo.
The Best New Zealand Whey
This whey is unique in the protein supplement world. It's free from Soy Lecithin instantiser. Dairy companies add instantiser to help Whey powder dissolve more easily in liquid when mixed as a shake. For this purpose Soy Lecithin is the most widely used. We go with Sunflower Lecithin instead. Sunflower is not only great for smooth mixing, but may offer you help with neuro-protective support. It's often used as a stand alone supplement for assisting brain health and cognitive ability. A strong body begins with a strong mind.
Ultra–Filtration Whey
Produced by an advanced Ultra–Filtration method, Defining Whey Premium has been painstakingly developed at one of the worlds leading edge milk plants. Low temperature's are used throughout production, to maintain highest nutrition properties. This is right here in New Zealand, made to meet highest export standards. The specification is sort after around the world for quality, and high nutrition properties.
High BCAAs, EAAs, And Glutamine Whey
The cutting edge production maintains highly sensitive whey micro–fractions, resulting in a protein powder ideal for optimum health and diet support. It's a rich source of power packing BCAAs (branched chain amino acids), EAAs (essential amino acids), and sought after L-Glutamine precursors. So it's great help for lean muscle, and strength gain programs too.
I've heard some Whey contains hormones
This is true. In some countries hormones are used to increase the rate of milk production by cows. This practice is common place overseas, but it's something I'm glad the New Zealand government doesn't allow here. It's a great stance to take by NZ. Defining Whey Premium is completely hormone free.
How to use it
Defining Whey Premium is batch blended for optimum freshness. This is one of the things you may first notice, fresh taste! It mixes best with water or low fat milk. You can stir and mix it with a spoon, but the smoothest shake result is with a handshaker or blender. It's ok to take anytime you need a protein meal, either at the same time as other foods or on its own. The best times are as soon as possible after exercise, or at breakfast time. If you are on a diet and need something clean to satisfy a craving, it's perfect to drink then too.
Packaging
We use recyclable mini tubs and resealable packs.
Ingredients
Chocolate Brownie Flavour:
100% Ultra Filtration Whey Protein Concentrate (from Milk), Natural Cocoa, Natural Chocolate Flavour, Natural Stevia, Instantiser (Sunflower Lecithin).
Vanilla Melt Flavour:
100% Ultra Filtration Whey Protein Concentrate (from Milk), Natural Vanilla Flavour, Natural Stevia, Instantiser (Sunflower Lecithin).
Sea Salt Golden Caramel Flavour:
100% Ultra Filtration Whey Protein Concentrate (from Milk), Natural Caramel Flavour, Natural Stevia, New Zealand Organic Sea Salt, Instantiser (Sunflower Lecithin). 
Overall Rating
| | |
| --- | --- |
|  Mixability |  ★  ★  ★  ★  ★  |
|  Taste |  ★  ★  ★  ★  ★   |
|  Mike's Rating  |  ★  ★  ★  ★  ★  |