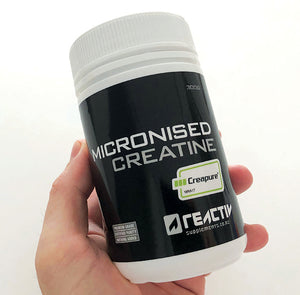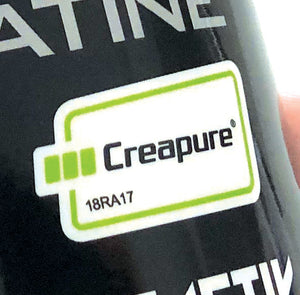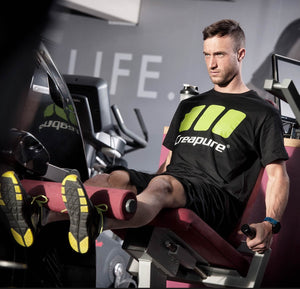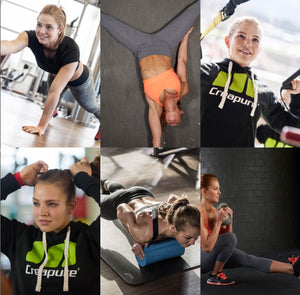 Regular price
$49.80
Sale price
$59.90
or 4 payments of $12.45 with
More info
Limited Stock Available
We are officially licensed suppliers of German Creapure® Brand Creatine Monohydrate.

Additive free – Nothing added.
Help boost strength and endurance
Support recovery between sets
Assist recovery between workouts
Vegan Approved Product
What is Micronised Creatine?
Micronised Creatine is a Creatine Monohydrate that has been 'micronised', to help provide greater uptake by the body. Creatine Monohydrate is one of the most talked about sports supplements in sports nutrition. The reason for this is the millions of athletes around the world acknowledging better sports performance from using this supplement. Athletes admit that Creatine Monohydrate gives them 'the edge', and has become the staple supplement for elite and amateur athletes. 
Creatine is a natural metabolite our body uses for a number of vital processes. Its most important role may be its part in 'ATP' production (our initial energy system to produce quick, explosive movements, and muscular contractions). Through Creatine loading we may create a pool for accelerated ATP replenishment, for faster access to more energy, delaying training fatigue, to push harder for longer. This may help lead to greater strength gains and muscle growth.
How may Creatine Monohydrate help?
In addition to its energy support role, Creatine also appears to help cell volumisation (the effect when muscle cells become super-hydrated). This process may stimulate greater muscle protein synthesis as well as help allow resistance to muscle wasting and breakdown.
Weight trainers commonly describe that once loaded on Creatine the full effects begin to be noticed. This includes greater 'pumps' during training, and a harder visual appearance to their muscles. Along with a noticeable increase in strength and endurance. 
Safe, Pure Creatine
When selecting Creatine there's a broad range of quality. Low grade raw materials and production methods result in high levels of impurities in some types of Creatine. Worldwide authorities warn about health risks resulting from these. Internationally renowned for its strict specifications, high quality and purity, Reactiv uses patented Creapure® brand Creatine made in Germany www.creapure.com. Advancing Creatine technology further, Creapure® is 'micronised' for a finer particle size, more easily dissolved - which may lead to more rapid absorption and uptake by muscle cells.
If you're serious about developing a lean and more toned or muscular physique, or greater athletic performance, then this is one supplement you cannot afford to train without.
The History of Creatine
A French scientist named Chevreul, in 1832, was the first person to identify and name a component in meat, Creatine. Another scientist, Justus von Liebig from Germany, later confirmed Chevreul's finding. Liebig's own research led him to discover that creatine levels in the muscles of wild animals were significantly higher than those of animals kept captive.
Creatine – the focus of more than 300 scientific studies – has now become one of the most well known and extensively researched sports nutrition supplements.
Creatine supplementation has become a common practice among elite professional sports people, as well as amateur athletes for enhancing performance.
What does Micronised Creatine contain?
100% Creapure® Creatine Monohydrate powder, free from additives, and all other ingredients.
How to use Micronised Creatine Monohydrate
There are 2 ways you can go:
1) Traditionally it's suggested muscles first need to become saturated with Creatine, and initial 'loading' is recommended. To load consume 5g, 4 or 5 x per day for 5 days. Then drop to a 'maintenance' dose of 5g, 1 or 2 x per day for up to 12 weeks. It used to be protocol to cycle the use of Creatine like this, with a 3 to 4 week break before resuming. Taking Creatine this way leads to faster results occurring, usually beginning within 5 to 7 days.
2) In recent years it's become common practice to skip the loading phase and take one serve of Creatine every day, this can be followed continuously without a break. Taking Creatine this way is usually slower for progress to begin, it usually takes around 10 to 14 days, compared to the 5 to 7 days if following the loading plan above.
While on a Creatine cycle you should take it EVERY day (do not skip days).

Carbohydrates, particularly High GI Carbohydrates like Dextrose or Maltodextrin, taken with Creatine may help increase uptake dramatically. This stack is what has given Creatine the reputation as one of the most effective bodybuilding supplements. While supplementing Creatine avoid caffeine as it may reduce the benefits.
Nutrition Information
Serving Size: 1 Teaspoon (5g)
100% Creapure® Creatine Monohydrate
Overall Rating
| | |
| --- | --- |
|  Mixability |  ★  ★  ★      |
|  Taste |  ★  ★  ★  ★    |
|  Mike's Rating  |  ★  ★  ★  ★  ★  |