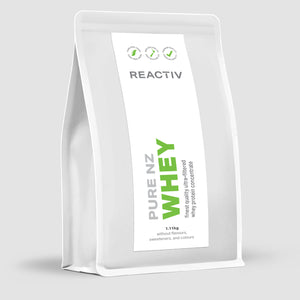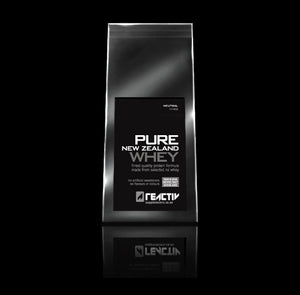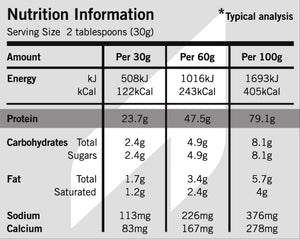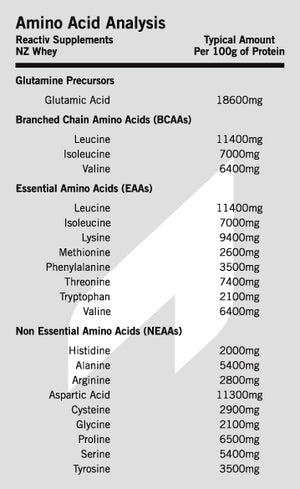 Regular price
$63.80
Sale price
$97.80
or 4 payments of $15.95 with
More info
Natural NZ Whey Protein.
Our most popular Whey.
Free from all additives and unflavoured.
The best tasting unflavoured whey
Excellent everyday protein shake  
Wholesome nutrition with zero Soy
Lacto–Vegetarian Approved Product
Unflavoured Pure NZ Whey
Pure New Zealand Whey is an unflavoured, Whey Protein Concentrate shake powder, made by a leading manufacturing technique called Ultra–Filtration. This careful production method protects it's naturally high levels of health and body supportive nutrition properties.
It contains high levels of natural Branched Chain Amino Acids (BCAAs), as well as Glutamine precursors. This makes it an ideal protein supplement for helping protect valuable lean muscle and strength. It's perfect for assisting both lean muscle gain or weight loss plans, or even supporting both at the same time if used as part of the appropriate program.
If you live a busy lifestyle and often feel worn out, then the unique nutrition profile of Pure NZ Whey may also help prevent you from getting run down and sick. It's great immune system support. When taken regularly on a daily basis it can assist energy levels and help give you the extra go, to get through a hectic schedule.  
Best tasting natural Whey
Pure New Zealand Whey is the best tasting shake from my unflavoured dairy powders. It's also the most satisfying to drink and mixes easily into a very smooth shake. It can be mixed by stirring with a spoon if you want to, but I recommend using a shaker instead.
The taste is pleasant and neutral, a little bit like milk, but with a bit more of a creamy consistency. It's easy to drink on its own, but if you do like to make smoothies then it combines very well with fruits, superfoods, and carbohydrate powders like my Pure Maltodextrin and Pure Dextrose.
When to take Pure NZ Whey protein
You can use your Whey any time you need a protein serving. Two of the best times to take it are immediately after exercise, and at breakfast. These are the two times I stick to all the time myself. You can also use it for other meal times if you want to. If I'm a bit rushed and I don't have time to stop for long at a scheduled meal time, then I will often mix up a quick shake and have that to get me by. This covers my protein needs and I know it's also clean in its calories.
Clean New Zealand Whey Powder
Pure New Zealand Whey is a highest quality, healthy protein that you can feel confident about using. This formula is made without added sugar, additives, dyes, sweeteners, flavours, or preservatives. It's also free from fillers, the way nature intended.
Free From Soy Lecithin Instantiser
Pure New Zealand Whey is also free from Soy Lecithin – the most commonly used instantiser in protein supplements. Instantisation is performed at the dairy factory, and is what helps supplement powders mix more easily when added to liquid. Pure NZ Whey uses Sunflower Lecithin instantiser. Sunflower Lecithin is often supplemented on its own for neurological support, and for help as a brain tonic. This makes great nutritional support for keeping you in the zone.
Free Range, Grass Fed New Zealand Whey
Pure New Zealand Whey is proudly made in New Zealand, and sourced from local dairy farms with healthiest cows that roam happily and eat grass.
Packaging
The pack system is a resealable 1.11kg pack, or 450g mini tub.
Ingredients
100% Ultra Filtration Whey Protein Concentrate (from Milk), Instantiser (Sunflower Lecithin).
Overall Rating
| | |
| --- | --- |
|  Mixability |  ★  ★  ★  ★  ★  |
|  Taste |  ★  ★  ★  ★  ★   |
|  Mike's Rating  |  ★  ★  ★  ★  ★  |