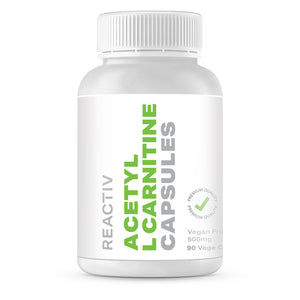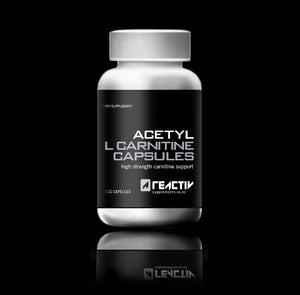 Acetyl L Carnitine Capsules
Regular price
$36.80
Sale price
$59.90
Pure Acetyl L Carnitine (ALCAR) Capsules

Fat burn help without stimulants

Focus and brain health support

Muscle recovery and endurance aid
Big value 90 serve bottle
Vegan Approved Product
What are Acetyl L Carnitine Capsules?
Acetyl L Carnitine Capsules are easy to take 500mg vege capsules. Each capsule contains a form of L–Carnitine with unique properties to help support fat burning, fuelling the mind, and workout performance.
Because it's a non stimulant supplement, Acetyl L Carnitine is suitable as an everyday way to assist the natural fat burning processes in the body – and to support muscle and strength goals. If you are studying for an exam, or need sharper concentration skills, it may help there too.
Why use Acetyl L Carnitine Capsules
L Carnitine is produced naturally in the body. It plays a main role in energy production, transporting fats into the muscle cells for burning, to fuel activity. From our diet we may obtain small amounts, mainly coming from animal products. Adults who eat a lot of red meat may consume higher amounts of L Carnitine, while those who are eating less red meat, or are eating plant based, will receive much smaller amounts from the diet. As we age, L Carnitine levels in the body may be lower too. 

When optimum L Carnitine levels in the body are needed, supplementation may give you a useful tool to help.
What makes Acetyl L Carnitine unique

The Acetyl L Carnitine form of L Carnitine is different to other forms by the way it may also help brain performance. It may cross the blood–brain barrier to assist with nootropic, learning, and memory support.

Acetyl L Carnitine and Bodybuilding
Acetyl L Carnitine is a supplement that's often used by bodybuilders, especially at competition time. Some of the benefits it's used to help with include: Strength gain, testosterone boosting, faster muscle recovery after exercise, muscle building, and for decreasing muscle fatigue during activity.
What do Acetyl L Carnitine Capsules contain?
Contains only 100% pure Acetyl L Carnitine. This is a pure capsule, free-from excipients, fillers, additives, flavours, colours, and preservatives. Acetyl L Carnitine Capsules are plant based friendly and Vegan, and a vegetable capsule is used. Free-from gluten and dairy.

New Zealand Crafted
Acetyl L Carnitine Capsules are carefully made here in New Zealand, using the very best selected local and imported ingredients.
How to use Acetyl L Carnitine Capsules
Take with a glass of water without food, between meals. For greatest benefits take at the same time as other supplements like TR2, that support fat burning and focus. 

Nutrition Information
Serving Size: 1 capsule (500mg)
100% Acetyl L Carnitine, in a vege capsule, free-from everything else
Overall Rating
| | |
| --- | --- |
|  Mixability |  ★  ★  ★  ★  ★  |
|  Taste |  ★  ★  ★  ★  ★  |
|  Mike's Rating  |  ★  ★  ★  ★  ★  |