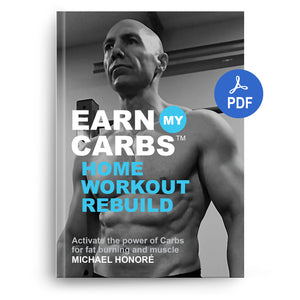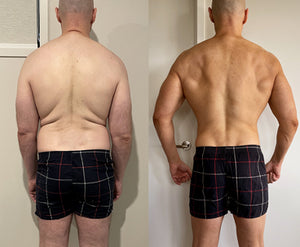 Regular price
$37.80
Sale price
$63.80
or 4 payments of $9.45 with
More info
Welcome to Earn My Carbs™ – Home Workout Rebuild.
If you have been following me on instagram (@mikereactiv), you will have seen my workout reels.
This is the diet plan I used to burn fat, and rebuild my muscle and health.
Inside is the nutrition and home workout plan I used, and continue to follow.
This is a 54 page ebook, in PDF format.

Why Earn My Carbs™?
Since my 51st birthday transformation, I've been asked a lot what plan I followed.
After a couple of health challenges I lost my fitness, and ended up out of shape and in the doctors office. As my 50th birthday closed in, it became my deadline to get on top of this. I needed a health supportive weight loss plan, that I could safely follow long term, and beyond.
Pulling together what worked best in healthier times, along with emphasis on sustainable nutrition, I combined this with home based workouts. I got started on my 50th birthday. I didn't know what I could achieve from ground zero, but once underway things started moving in the right direction.
Everything you need to know
Inside Earn My Carbs™ I share with you the experience, how it began, the tools I used, and actions I took to burn fat and rebuild. The guide breaks down my nutrition plan in detail, and how to apply it to yourself, or teach to others. You will learn what foods are the best choices, and a simple method to know what amounts to eat. Also inside is my home based training plan. It's straight forward, flexible, and easy to apply – nothing special is needed.
What about training equipment?
All my workouts were completed at home (and still are), with minimal equipment. I started with three pairs of dumbbells and a weight bench (see the pic above). The plan is based around weight training exercises. It suits home based, or gym based training.
What about cardio?
I completed my transformation with zero traditional cardio. Not that I have anything against cardio, but a knee injury prevented it. I followed a specific type of weight training plan – this helped me burn fat, build muscle, and increase my fitness.
How long did it take?
Due to where my health (and age) was at, I needed a method I could safely follow long term. My transformation was over 12 months. For shorter term goals the plan can be adjusted to suit. At the time of completing this guide it's been over 15 months since I began this program. I continue to follow it every day.
What's inside Earn My Carbs™
• How I tackled health issues and rebuilt my body, after my 50th birthday.
• My complete nutrition plan, and the supplements I used to transform.
• My training plan, broken down with reps, sets, and workout examples.
• Advice on how to harness the true potential of food. 

• How to adjust for more fat burning, or more muscle support.
• Why calorie counting and calorie calculators are obsolete.
• The best way to track and monitor your progress.
Start now
Order Earn My Carbs™, and receive it straight away. Once your order is complete, you will be sent an email with a link to begin your ebook download.*
*If you don't receive an email within a few minutes of placing your order, please check your email spam folder.
Please note, Earn My Carbs™ – Home Workout Rebuild, is an ebook in PDF format.
You can make it happen – all the best,
Michael Honoré
Founder, Reactiv Supplements
P.S. If you have any questions please DM me on instagram (@mikereactiv), or email mike@reactiv.co.nz