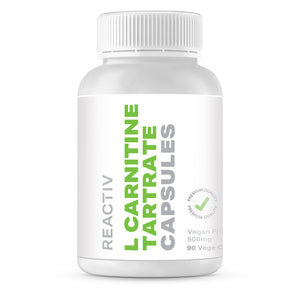 L Carnitine Tartrate Capsules
Regular price
$36.80
Sale price
$59.90
or 4 payments of $9.20 with
More info
Pure L Carnitine Tartrate Capsules

Clean help for burning fat as fuel

Support training harder for longer

Aid faster recovery and less soreness

Big value 90 serve bottle
Vegan Approved Product
What are L Carnitine Tartrate Capsules?
L Carnitine Tartrate Capsules are easy to take 500mg vege capsules, ideal before training. The many exercise and weight loss studies performed on L Carnitine mainly use the L Carnitine Tartrate form. This is because it's regarded as the best form of L Carnitine for the support of athletic performance and fat burning.
If you have been looking for a non stimulant supplement to help support both fat burning, and exercise performance, L Carnitine Tartrate is the best option. It's suitable to take daily at any time and can be stacked with other pre-workout amino's or used alone.
Why use L Carnitine Tartrate Capsules
Taking L Carnitine Tartrate Capsules is a simple step which may assist the natural ability of the body to burn stored fat. It may also help muscles recover faster, supporting less muscle soreness after exercise, and quicker lean muscle development. L Carnitine Tartrate may also help reduce muscle lactate buildup during activity, to help endurance ability. When training with fat loss, and lean muscle condition in mind, this is a staple worth including in your daily nutrition. It also offers great value for money.
New Zealand Crafted
L Carnitine Tartrate Capsules are carefully made here in New Zealand, using the very best selected local and imported ingredients.
How to use L Carnitine Tartrate Capsules
Take with a glass of water with or without other foods. For greater weight loss benefits take at the same time as TR2. L Carnitine Tartrate Capsules can be taken 1 to 3 x per day. 30 minutes before exercise is a good time for a serving. Taken every day will help L Carnitine Tartrate work at its best. 

Nutrition Information
Serving Size: 1 capsule (500mg, L Carnitine Tartrate)
Overall Rating
| | |
| --- | --- |
|  Mixability |  ★  ★  ★  ★  ★  |
|  Taste |  ★  ★  ★  ★  ★  |
|  Mike's Rating  |  ★  ★  ★  ★  ★  |