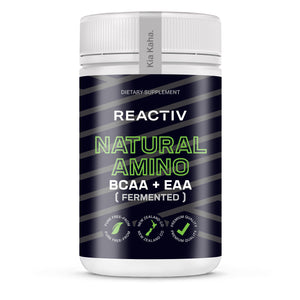 Regular price
$54.80
Sale price
$64.90
– LOW STOCK, LIMITED AMOUNT LEFT

Essential Amino Acid blend with BCAAs
Additive free – Unflavoured
The 9 Essential Amino Acids

Help support muscle and health

Natural, plant based friendly

Vegan Approved Product
What is Natural Amino?
Natural Amino is a plant based friendly source of the 9 Essential Amino Acids (EAAs), including the 3 Branched Chain Amino Acids (BCAAs). It's made by natural fermentation of plant ingredients, and may help support muscle, athletic performance, and health.
3 of the EAAs are well known, they are called the BCAAs. EAAs are becoming a popular option instead, rather than using the BCAAs alone. While BCAAs may help, the 9 EAAs may provide the edge, for helping us workout harder for longer, aid faster recovery, and assist lean muscle goals. 
Fastest Uptake
The amino acids in Natural Amino are 'Free Form'. This means their uptake into the body is faster than from protein powders and protein foods. This may provide a greater advantage over other protein sources, when the body requires easy digestion and a quick supply of amino acids.
When is the best time to take Natural Amino?
Taking Natural Amino before, during or after training, are all good times to help with workout progress. These times may help support muscle protection, and the body's muscle development response to training. It can also be taken at the same time as a meal, or between meals, to help contribute to complete protein nutrition. This can help to make life easier to meet protein needs, especially when following plant based diets, or when focusing on more plant based eating.
For endurance training, taking Natural Amino during sessions may help with fast delivery of important amino's to working muscles.
What does Natural Amino contain?
All 9 Essential Amino Acids, in an L–Leucine heavy ratio. Free from flavours, colours, and preservatives. Sunflower Lecithin is used as the instantiser, this helps you mix this powder in water (it's free from Soy Lecithin).
Use
Take 7g (1 heaped teaspoon) of Natural Amino mixed with a glass of water or juice before, during, after exercise, or with or between meals.
Nutrition Information
Serving Size: 7g
Overall Rating
| | |
| --- | --- |
|  Mixability |  ★  ★  ★  ★   |
|  Taste |  ★        |
|  Mike's Rating  |  ★  ★  ★  ★  ★  |