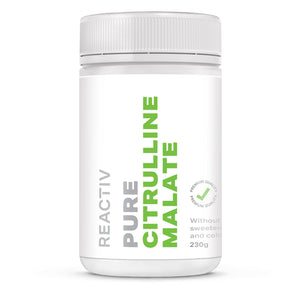 Regular price
$43.80
Sale price
$62.90
or 4 payments of $10.95 with
More info
Additive and flavour free

Help endurance and strength
Support maximum energy
Aid pumps and fast recovery 
Vegan Approved Product
What is Citrulline Malate?
Citrulline Malate is a pre–cursor to Arginine, used by exercisers to help increase nitric oxide levels. These higher levels may lead to increased strength, and less fatigue, through greater blood flow of oxygen and nutrients to muscles. Citrulline Malate may also assist detoxification of ammonia, and buffer lactic acid from exercise, speeding recovery during and after training. Experts believe this is achieved by Citrulline Malate increasing the levels of bicarbonates in the blood. Bicarbonates are important for controlling blood lactate levels, to combat fatigue. By helping exercisers train more intensely for a longer time, this may in turn help lead to greater gains from training.
What does Reactiv Pure Citrulline Malate contain? 
Reactiv Pure Citrulline Malate powder is free from sweeteners, flavours, colours and preservatives. It is a premium quality, high strength 2:1 form. Many companies use a less effective, weaker strength 1:1 form.
Use
Take 1 serve of 2 grams, 1 to 3 x per day. Best taken with water between meals. 
Nutrition Information
Serving Size: 1 x level Teaspoon (2g)
L–Citrulline DL–Malate 2:1
Overall Rating
| | |
| --- | --- |
|  Mixability |  ★  ★  ★  ★  ★  |
|  Taste |  ★  ★  ★      |
|  Mike's Rating  |  ★  ★  ★  ★  ★ |