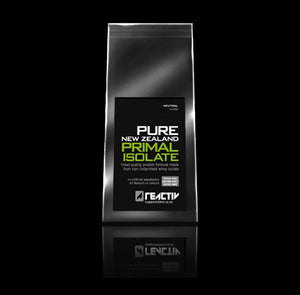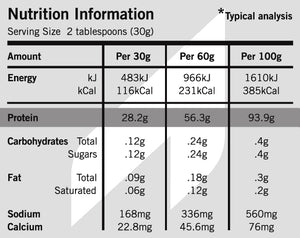 Regular price
$83.80
Sale price
$104.80
Sorry this is out of stock, please take a look at our other product Pure NZ Isolate
The most raw and natural NZ Whey Isolate
Free–From instantiser, additives, and flavour
Great value Whey Isolate
*Please note an electric blender is usually recommended to mix this product. We recommend using more water than with other protein powders. It will mix up very foamy, some of this will settle over time.
The closest to nature Whey Isolate
Very high Leucine and BCAA's
Lowest Lactose and Calories
Lacto–Vegetarian Approved Product
Raw NZ Whey Isolate
Pure NZ Primal Isolate is an alternative, low temperature process, un-denatured Whey Isolate supplement. What makes Pure NZ Primal Isolate unique is that it's made without instantiser (it's Soy free). When Whey powder's are manufactured at the milk factory they usually include an added instantisation process. Instantisation of powders is used to help them dissolve more easily when added to liquids. Most of the time the ingredient added for this step is Soy Lecithin (often listed as 'Lecithin' on protein powder labels).
Best Paleo Whey Isolate
Due to this Whey Isolate being as close to its raw state as possible, and Free–From all other ingredients, it makes a great option for Detox's, and Paleo, or Primal eating plans.
How Does Raw Whey Isolate Mix?
If you mix this protein powder in an electric blender then the result is a very smooth shake. Alternatively, the current batch can be mixed in a hand shaker, it does come up very foamy/frothy, some of this settles over time and leaves foam on top at the end. It's recommended to use more water to mix this than with other protein powders.
New Zealand, Grass Fed Whey Isolate
Pure NZ Primal Isolate is sourced here in New Zealand, and is made from fresh New Zealand, Grass Fed cows milk from local farms. 
Use
Pure NZ Primal Isolate mixes best with an electric blender, we recommend that method of mixing as the way to go. When mixed with water it has a light consistency and natural taste. If you would like to add some flavour try our Flav A Shake flavour system.
Pack system
We use resealable packs and mini tubs.
Ingredients
100% Whey Protein Isolate (from Grass Fed New Zealand Milk).
Overall Rating
| | |
| --- | --- |
|  Mixability |  ★  ★        |
|  Taste |  ★  ★  ★  ★    |
|  Mike's Rating  |  ★  ★  ★  ★  ★  |