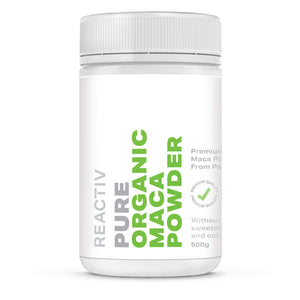 Regular price
$52.80
Sale price
$119.80
or 4 payments of $13.20 with
More info
Natural energy and health support
Additive and flavour free 
Certified Organic, from Peru
Assist energy and stamina
Help boost libido and vitality
Vegan Approved Product
What is Pure Organic Maca Powder?
Maca is an adaptogenic root vegetable, sometimes called Peruvian Ginseng. Peruvians have been cultivating Maca as a vegetable crop for the last 3000 years, and using it for its medicinal value. When supplementing Maca, users report boosts in energy, increases in libido, and stress relief. Its unique, high levels of vitamins, minerals, and amino acids, may help rebalance hormone levels, and our ability to adapt to stress.
What are the origins of Pure Organic Maca Powder?
Maca is grown in the Peruvian Andes, where it thrives in the cold, mountain climates. It has a rich history in the local culture. It's believed to have been consumed by ancient incan warriors prior to battle, to help them have greater endurance and strength. It's use as an aphrodisiac and fertility aid is also a long held tradition, passed down through the generations in Peru.
What does Reactiv Pure Organic Maca Powder contain?
Contains only certified Pure Organic Maca Powder, from Peru. No additives, flavours, colours, or preservatives have been added. Pure Organic Maca Powder naturally has a malt, vanilla taste, with mild sweetness. It tastes great added to an unflavoured whey protein shake.
Use
Mix 1 rounded teaspoon into your smoothie, juice, or water. Can be used as a natural pre-workout energy supplement.
Recommendations
If any medical conditions, on medications, pain killers, or anti-coagulants please seek doctors advice first. Not suitable for pregnant women.
Nutrition Information
Serving Size: 1 Teaspoon (5g)
Pure Organic Maca Powder
Overall Rating
| | |
| --- | --- |
|  Mixability |  ★  ★  ★  ★      |
|  Taste |  ★  ★  ★  ★     |
|  Mike's Rating  |  ★  ★  ★  ★  ★  |