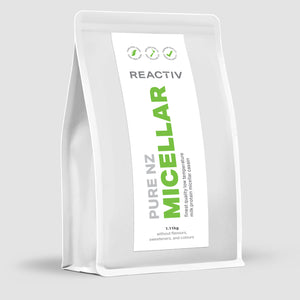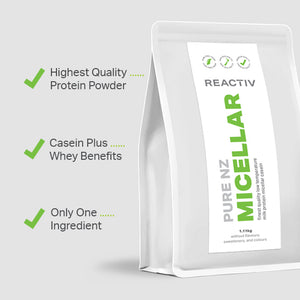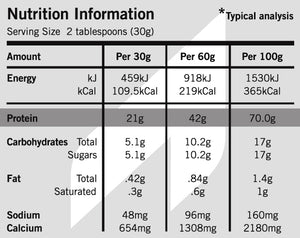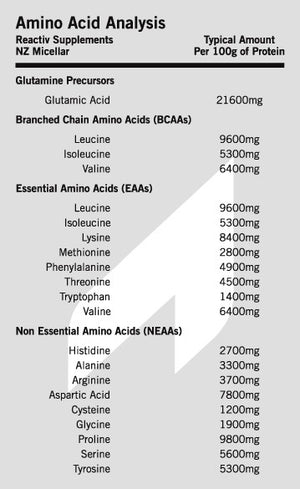 Regular price
$54.80
Sale price
$81.80
or 4 payments of $13.70 with
More info
New Zealand Micellar Casein Milk Protein
Additive and flavour free
Best value grass fed protein with high health support
Great source of Micellar Casein
Slow release protein powder
Support muscle and immunity

Lacto–Vegetarian Approved Product
What is Pure New Zealand Micellar Casein Protein?
Pure New Zealand Micellar is a very high quality Grass Fed Milk Protein. This unique type of Milk Protein is often called 'Micellar Casein'. It's known for naturally containing bio active milk peptides, that may help with health and immunity support.
Pure NZ Micellar is made directly from Skim Milk using a low temperature, ultra filtration method. Careful production provides optimum protection from denaturing, maintaining 'native' properties. 'Native' milk proteins are sought after by athletes, bodybuilders, and health conscious people, for stronger nutritional benefits over other proteins. Benefits include providing a rich supply of branched chain amino acids to help support muscle, as well as natural health properties that may help support stronger immunity and greater health. 
Slow Protein, for day or night
Like other types of Casein, Pure New Zealand Micellar offers slow digestion speed benefits. Another feature of this type of 'Native' Milk Protein Micellar Casein is that it contains a natural ratio of 80% Micellar Casein, 20% Whey. This is a great combination of slow and fast release protein – making it an ideal 'all in one' protein powder. Great for daytime use or before bed.

Single Ingredient Micellar Casein
Pure New Zealand Micellar is ideal for anyone who needs a body and health supportive, very high quality protein powder at a great price. It's 100% free from all other ingredients, including sweeteners, flavours, and colours. It's also non instantised, which makes it a genuine 100% pure milk protein source.
Natural Milk Protein From NZ Farms
Pure New Zealand Micellar is made in New Zealand using hormone free kiwi milk. Strict NZ dairy regulations mean our cows remain healthier, and produce more nutritious milk.
How to use Pure NZ Micellar
Pure New Zealand Micellar is best mixed with water in an electric blender or shaker, and has a neutral taste and smooth texture. By comparison it mixes up thicker than Whey and is more filling. It's quite a versatile powder that can be used to make shakes through to desserts, or added to baking. For flavour when you need it please check out our Flav A Shake flavouring system.
Resealable packaging
We use compact resealable bags and recyclable tubs.
Ingredients
100% Ultra Filtration Micellar Casein Milk Protein (from fresh New Zealand Milk).
Overall Rating
| | |
| --- | --- |
|  Mixability |  ★  ★  ★  ★  ★  |
|  Taste |  ★  ★  ★  ★      |
|  Mike's Rating  |  ★  ★  ★  ★  ★  |