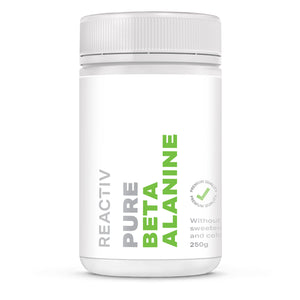 Regular price
$35.80
Sale price
$67.00
or 4 payments of $8.95 with
More info
Additive and flavour free

Aid strength and lean muscle

Help fight muscle fatigue
Support training endurance
Vegan Approved Product
What is Pure Beta Alanine?
Beta Alanine is an amino acid that's used to help support muscle Carnosine levels. It's often used as an alternative to Creatine, for help with performing more reps, training harder, and supporting lean muscle. It's also used to help muscles perform at a higher level for endurance sports. Muscle cells use Carnosine to buffer against acidity (low pH) during exercise. Low pH is caused by the build up of Lactic Acid and Hydrogen Ions in your muscles. You might recognise this as the muscle burn you feel during activity. When you are lifting weights this burn leads to eventual muscle failure - the point when you can no longer do any more reps.
Athletes and weight trainers know that greater strength, muscle gains, and fitness progress can be reached by breaking through previous training thresholds. For this reason they turn to Beta Alanine to help elevate muscle Carnosine - so they may push themselves more intensely, for longer.
Beta Alanine is being used more and more by those participating in sports that require explosive bursts and high endurance capacity. Some of these sports include Weight Training, CrossFit, Rugby, Sprinting, Cycling and Mountain Biking, Mixed Martial Arts and Boxing, and Multi Sports.
Help support better workouts and training progress.

What does Reactiv Beta Alanine contain? 
Contains only 100% Pure Beta Alanine powder. This is a pure powder without additives, flavours, colours, or preservatives.
Use
Take 1 serve 2 x per day. For the first 2 weeks an optional loading phase of 1 serve, 3 x per day may be used. Ideal use is for 12 weeks or more. Best taken with water, or a carbohydrate drink between meals.
Tip
In some people Beta Alanine may cause tingling or flushing of the skin - this is a normal response and a sign of effectiveness. A smaller serve (of 10mg or less per kg of bodyweight) for each dose may help reduce or prevent this effect. Please do not use if you suffer from existing heart conditions.
Nutrition Information
Serving Size: 1 x level Teaspoon (2g)
100% Beta Alanine
Overall Rating
| | |
| --- | --- |
|  Mixability |  ★  ★  ★  ★  ★  |
|  Taste |  ★  ★  ★  ★  ★     |
|  Mike's Rating  |  ★  ★  ★  ★  ★  |