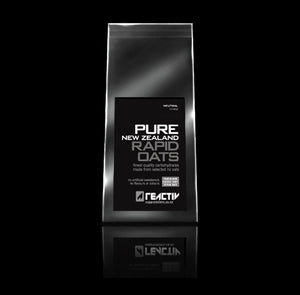 Regular price
$18.80
Sale price
$28.50
Wholesome NZ grown Oat Powder
Additive and flavour free
Slow release carbohydrates
Ultra fast and easy to use 
Nutritious fibre source 
Vegan Approved Product
Pure NZ Oat Powder
Pure New Zealand Rapid Oats are a premium quality fine oat carbohydrate powder, grown and made here in NZ, designed to be added to protein shakes, smoothies, or baking. Due to an excellent nutritional profile Oats are often described as a super food. They're thought to be one of the best 'clean' carbohydrates we can eat. One of the main benefits is the 'Low GI' slow release energy they can help provide. Oats gradual supply of energy, over a prolonged period of time, is ideal for bodybuilders, athletes, dieters, and anyone who wants better energy levels.  
An Oat Powder Supplement For Shakes And Smoothies
Oats are awesome, but sometimes preparing porridge can be a chore, or just not practical (especially at work). This is why Pure New Zealand Rapid Oats are a great option. The utra fine powder form means they are easy to use - add them straight to your protein shaker with or without protein powder for mixing. Receive all the benefits of regular Oats and Porridge with the convenience of a powder form you can drink. 

Pure New Zealand Rapid Oats are free from additives, flavours, and fillers - all that's in the formula is micronised, slow release, Pure New Zealand grown and sourced Oats.
How To Use Rapid Oats Powder 
When mixed with water Pure New Zealand Rapid Oats has a natural oat taste. You can drink it on its own mixed with water, but it's best added to protein shakes or smoothies to form a perfect liquid meal replacement. Best results are achieved when oat powder is mixed with protein powder in an electric blender. When made this way the shake is very smooth and creamy. This makes a very satisfying shake to drink, and may help you if you want to feel full for longer, but not bloated.
Nutrition Information
Serving Size: 30g
Energy: 402kj / 96kCal
Protein: 4.1g
Carbohydrates: 16.9g
Sugars: <.3g
Total Fat: 1.5g
Saturated Fat: .3g
Sodium: 2.7mg
Dietary Fibre: 2.8mg
Ingredients
Pure and wholesome New Zealand Oat Powder
Packaging
We use resealable 1.11kg size packs.
Overall Rating
| | |
| --- | --- |
|  Mixability |  ★  ★  ★  |
|  Taste |  ★  ★  ★  ★    |
|  Mike's Rating  |  ★  ★  ★  ★  ★  |