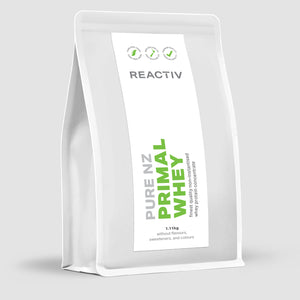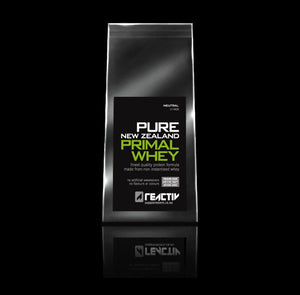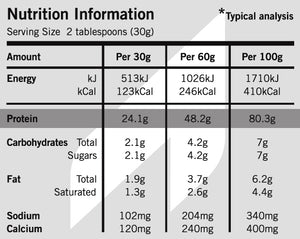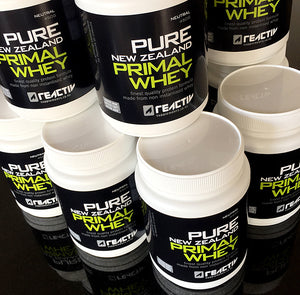 Regular price
$59.80
Sale price
$91.80
Sorry this is out of stock, please take a look at our other product Pure NZ Whey
The most raw NZ Whey.
Unflavoured and free from all additives.
Healthy grass fed.
Less processed and Soy free
Best clean diet or Paleo protein
Low temperature production
Lacto–Vegetarian Approved Product
Non Instantised Raw Whey Protein
Pure NZ Primal Whey is the most raw form of whey protein powder. At the dairy factory, when whey powders are made, they normally go through an extra processing step called 'instantisation'. This step, which bonds an instantiser ingredient to whey, is what helps it dissolve in liquid when you mix up a shake. The most often used instantiser ingredient is called Soy Lecithin. This can be shown as 'Lecithin' in ingredients lists on protein powder labels.
A more healthy whey supplement
From a health support perspective, the less processed whey is, the better. We get ours before instantisation is performed, and before anything else is added. Coupled with this is minimal, low temperature processing. This is the best way to help maintain highest levels of its valuable, natural health properties. If you're on a clean food diet, following a Paleo or Primal lifestyle, or on a detox, and want the benefits of a whey concentrate, then this is the most suitable option.
High BCAA whey
Made by a careful, dairy industry technique called Ultra-filtration, Pure NZ Primal Whey has very high levels of valuable amino acids. These include the BCAAs and EAAs sought after by athletes – to help performance, recovery, and lean muscle. It's also a great choice as a diet whey to help support a weight loss program. For lean muscle, or weight loss help it's recommended for use at least 1 to 2 times per day. It can also be used to provide the protein part of any other meal each day too. This is often a more cost effective option, when compared to other protein sources like meat.
How to mix raw whey
The best result is achieved by using an electric blender and mixing with water. There's no difference from a standard instantised whey shake, if you make it this way. Shaken in a hand shaker, and with patience (by shaking for a bit longer), it dissolves reasonably well, but don't expect as smooth a texture as instantised whey, or the same as you will get with an electric blender. The flavour is neutral, but not quite as creamy as an instantised Whey. If you need the least processed protein shake, then this is the best choice.
Natural grass fed NZ Whey protein
Pure NZ Primal Whey is made from fresh New Zealand cows milk. Milk products from Aotearoa are in high demand around the world. The reason for this is our cows produce healthier milk. Government legislation helps keep our cows safe from the harm of dangerous hormone use. Along with being hormone free, farmers also let their cows roam freely in paddocks, where they can graze on a grass diet. This natural diet, and no hormones status, is what sets New Zealand dairy apart from other countries. We are very fortunate.
Packaging
We use mini tubs and resealable packs.
Ingredients
Whey Protein Concentrate (from fresh New Zealand Milk – using Ultrafiltration).
Overall Rating
| | |
| --- | --- |
|  Mixability |  ★  ★  ★      |
|  Taste |  ★  ★  ★  ★    |
|  Mike's Rating  |  ★  ★  ★  ★  ★  |