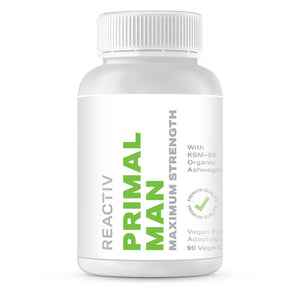 Regular price
$58.80
Sale price
$79.90
or 4 payments of $14.70 with
More info
Safe and effective male health support, with Organic Ashwagandha (KSM–66®)
High strength adaptogen blend
Help increase testosterone and health
Assist muscle and strength gain
Support male virility and immunity
Big value 90 serve bottle
Vegan Approved Product
Primal Man
Primal Man is extra strength male health support, carefully crafted using adaptogen herbs, plant ingredients, Folic Acid, and Zinc. It's free from gluten, dairy, artificial colours, flavours, and preservatives, and we use a vegetable capsule. Taken daily Primal Man is a safe way to help support testosterone, energy levels, lean muscle mass and strength, cardio respiratory endurance, and immunity and health. It may also assist helping to boost sex drive, and virility.
If you've been looking for a way to help boost your mojo and gains in a natural and safe way, Primal Man is here to help.

Why use Adaptogens?
Adaptogens are a group of herbs, roots, and plant ingredients that have the ability to 'adapt' to specific needs of the body. To help it rebalance and excel physically. The adaptogens in Primal Man have been selected for the unique ways they may each help support male hormone levels and a strong immune system. 
Adaptogens have been used in Ayurvedic medicine for thousands of years. The positive benefits they offer in Primal Man are as a safe, natural solution, to help support boosted mens health and immunity, long term.
Organic Ashwagandha Root
KSM–66® Pure Organic Ashwagandha Root (Withania Somnifera) is the key active ingredient in Primal Man. It's an ancient adaptogen herb that offers a raft of support benefits for men, right throughout life. And it may even help extend life and make it a longer one. It's traditionally used as an aid in supporting healthy testosterone, virility, and preventing effects of ageing. For assisting longevity, wellbeing and health, it may help support protection of the body against the challenges of modern living.
Effects of Ashwagandha on Testosterone, muscle strength and recovery
To examine the effects of Ashwagandha consumption on muscle mass, strength, and Testosterone, an 8 week study was conducted on healthy men engaged in resistance training. The results of this study showed that supplementing Ashwagandha is associated with significant increases in muscle mass, strength, and Testosterone levels. They also showed a significantly greater decrease in body fat percentage. To read more about the study click here.
What is Horny Goat Weed?

Horny Goat Weed (Epimedium Brevicornum) is the second main active in Primal Man. It has built up a worldwide reputation as a go to adaptogen herb to help testosterone boosting in men, and as an aphrodisiac for both men and women. It definitely has the most obvious name in supplements! Legend goes, it was stumbled across when an ancient Chinese goat herder, in the mountains of China, noticed high excitement and sexual activity from a flock whenever they grazed on this plant. Today it's one of the most widely used male support supplements, and women are using it too.
Other benefits include help to assist supporting energy, positive mood and cognition, and longevity.
Moringa Oleifera Leaf
Moringa Oleifera Leaf is an adaptogen that's been used for thousands of years in traditional medicine to help numerous protective health benefits. It's extremely nutritious, which is the source of its effectiveness. Moringa's popularity has exploded as a natural supplement to help support boosting male health. It's a rich supplier of bioactive nutrients and antioxidants that may aid men through assisting blood circulation, and healthy hormone levels.
Rhodiola defence
The adaptogen Rhodiola Rosea, is a nutritionally packed herb that's been used traditionally to help decrease the effects of fatigue and wear and tear on the body. Stress levels, physical or mental, that are too high for too long, may have a lowering effect on natural testosterone production and immunity. Through protection, Rhodiola may help maintain healthy testosterone and immunity – assisting defence from becoming lowered due to life challenges. 
Ginger Rhizome
Ginger is one of the most loved and used herbs in natural health. Popular for it's anti-inflammatory benefits, it's also been shown to help men with Testosterone and virility. A 2012 study showed a group of men benefit from a 17.7% increase in Testosterone levels over a 3 month period, when ginger was taken daily. 
Grape Seed Extract
Grape Seed Extract provides concentrated benefits from compounds found in grapes. Through interactions with Nitric Oxide, one of these may help to support improved circulation and blood flow in the body. Nitric Oxide in the body may help with allowing blood vessels to dilate for greater blood flow to extremities – this may help support healthy blood pressure.
Grape Seed Extract is also a potent source of antioxidants, that may further help blood vessel, circulatory health – and support immunity to fight bacterial and viral infections. 
Will the ingredients in Primal Man assist women?
Due to the natural, adaptogen ingredients, women may also safely experience positive results from use. Adaptogens work in different ways for men or women, to achieve different benefits. As 'body balancers', the adaptogens may help support healthy hormone levels in women. 
What does Primal Man contain?
Primal Man contains adaptogen herbs, plant ingredients, and vitamin, and mineral ingredients. The formula is without preservatives, flavours, and colours, and uses a vegetable capsule. Suitable for vegans and vegetarians, it's plant based friendly, and free from gluten and dairy.
Crafted in New Zealand
Primal Man is made proudly right here in Aotearoa. We use only the very best selected local and imported ingredients. 
How to use Primal Man
Take 1 capsule, 2 to 3 x per day, with or without food.
It's recommended to take Primal Man every day for 90 days, before taking a break. Can be taken long term depending on goals.
To assist with performance and recovery, a serve can be taken 60 minutes before workouts.
Nutrition Information
Servings Per Bottle: 90
Serving Size: 1 Capsule
(Typical analysis)
Organic Ashwagandha Root (KSM–66®): 2620mg
(Withania Somnifera 12:1)
Horny Goat Weed: 680mg
(Epimedium Brevicornum 4:1)
Rhodiola Rosea Root: 342mg
(4:1)
Moringa Oleifera Leaf: 342mg
(4:1)
Ginger Rhizome: 255mg
(Zingiber Officinalis 6:1)
Grapeseed Extract: 82mg
(Providing OPC)
Folic Acid: 100mcg
Zinc Citrate: 4.5mg
(Equivalent to Zinc)
 Overall Rating
| | |
| --- | --- |
|  Mike's Rating |  ★  ★  ★  ★  ★  |
Warnings
Not for use by pregnant women.