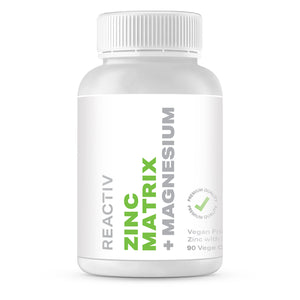 Regular price
$32.90
Sale price
$43.90
or 4 payments of $8.23 with
More info
Zinc complex with Magnesium!
GREATER muscle recovery help
STRONGER metabolism support
MORE immune system assistance 
Vegan Approved Product
What is Zinc Matrix?
Zinc is an essential mineral that's needed to support growth, repair, healing, reproductive health, healthy skin, vision, and immune function. 
The soils of New Zealand are low in Zinc, it's also a mineral that's generally absorbed poorly. For people leading busy lifestyles, dieting, bodybuilding, or training for physical performance, maintaining ideal levels of Zinc can be challenging.
Zinc Matrix has been designed to help provide healthy levels of Zinc, to meet the demanding needs of active people.
All in one Zinc Supplement
Zinc Matrix is a blend of clean and supportive ingredients, together with a stomach friendlier, highly bioavailable 'chelated' Zinc. You might already know how well Zinc and Magnesium may work together for helping with muscle and repair, we've given the Magnesium included a boost.
To help support maximum Zinc benefits, Vitamin B6, Vitamin C, and Beta Carotene are also included. These ingredients provide a synergistic base to help support maximum utilisation of Zinc by the body.
Zinc free from artificial additives
Zinc Matrix is free from colourings, sweeteners, flavourings, and preservatives.
Plant based friendly Zinc capsule
Zinc Matrix uses a plant based friendly vegetable capsule, and the formula is free from animal derived ingredients. This makes it suitable for Vegan and plant based eating plans. It is gluten free.
How to use Zinc Matrix
Take 1 capsule daily. If your stomach is sensitive, take it at the same time as a meal to avoid stomach upset. Try to avoid taking it at the same time as iron or calcium supplements, and milk or dairy foods.
How to get more from a Zinc Supplement
For maximum supportive benefits, combining both Zinc Matrix and Magnesium Restore Zen together, at the same time, may help even more.
Nutrition Information
Serving Size: 1 Capsule
(Typical analysis)
Zinc Chelate: 75mg
(Equiv. Zinc 15mg)
Magnesium Amino Acid Chelate: 300mg
(Equiv. Magnesium 60mg)
Vitamin C: 50mg
(Ascorbic Acid)
Vitamin B6: 10mg
(Pyridoxine Hydrochloride 12mg)
Pro–Vitamin A: 1000IU
(Natural Beta Carotene .6mg)
100% plant based friendly. Free from dairy, gluten, artificial preservatives, flavouring, sweeteners and colours.
Overall Rating
| | |
| --- | --- |
|  Mike's Rating |  ★  ★  ★  ★  ★  |