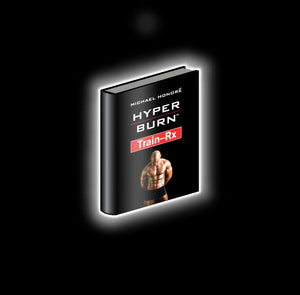 Regular price
$22.80
Sale price
$34.90
or 4 payments of $5.70 with
More info
Mike's weight training and cardio plan
All exercises and days mapped out

 
Advanced workout plan
Available for instant download now 
What is Hyper Burn Train-Rx?
This is my own personal weight training and cardio plan that I use when following the principles of my Hyper Burn E-book, or Rough Cut V2 Diet. After reading my Hyper Burn E-book or Rough Cut V2 Diet, many people have asked me how I specifically workout myself. This is it here - mapped out in an easy to follow format. Please note, it's recommended to combine the use of this training plan with my Hyper Burn E-book. Or, alternatively, this training plan can also be used with my Rough Cut V2 Diet.
Hyper Burn Train-Rx is the weight training and cardio structure that I stick to for optimum lean muscle development, and body fat reduction. It's a very effective method for lean muscle building and protection while stripping fat at the maximum rate for ultimate muscle size, shape, and detail.
Hyper Burn Train-Rx is suited for bringing the body down to single digit body fat percentage levels for maximum definition and muscle. Inside is an intensive weight training split targeting the entire body - and incorporates an intensive cardio regime for fat burning.
Recommended for experienced trainers!
Due to the nature of this training method it's recommended that you have previous weight training experience before undertaking this program.
It's also suggested that you have read my Hyper Burn E-book or Rough Cut V2 Diet, and have a good understanding of the principles outlined in those first.
Please Note:
This plan is in electronic PDF format, to be downloaded after purchase. Once your order is complete you will be sent an email with a link to begin your download. If you don't receive the email within a few minutes of placing your order, please check your spam folder.
Legal Stuff
Please check with your Doctor before beginning an exercise program. If you suffer from a pre-existing heart condition this plan may not be suitable for you, please seek medical advice first.
It's recommended that this plan is used in conjunction with the Hyper Burn E-book, or Rough Cut V2 Diet.