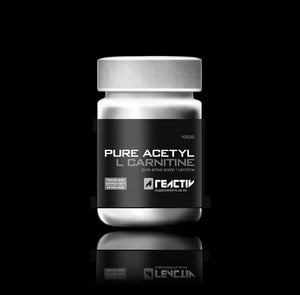 Regular price
$33.70
Sale price
$54.90
Additive and flavour free 

Pure ALCAR powder
Popular fat burner
Mind and focus support
Vegan Approved Product
What is Pure Acetyl L Carnitine?
Acetyl L Carnitine is one of the most popular forms of L–Carnitine. There are a few different forms of L–Carnitine supplements. Each form is mainly used to help on weight loss plans, to transport body fat into the muscles for burning off as fuel. Carnitine supplements may also help with a boost of energy during exercise, help muscle recovery from training, and help provide anti–oxidant benefits. How much of each of these additional benefits is experienced is different, depending on the form of Carnitine used.

We do get natural Carnitine in our diet from some foods we eat. Mainly coming from meat. People who don't eat much meat, are vegetarian or vegan, or on restricted diets (such as weight loss diets), may find it a challenge to maintain ideal levels. It's also thought that as we get older, Carnitine levels in the body decrease a lot too. Carnitine supplementation may be particularly useful to help in these cases where Carnitine levels are already low.


How can Acetyl L Carnitine help?
As far as Acetyl L–Carnitine goes, what makes this form unique is that it may cross the blood–brain barrier. Because of this it's known as the 'Brain Health' or 'Brain Buzz' Carnitine. Acetyl L Carnitine may help support brain function, and help protect it. It's used by students to help improve studying ability, and concentration for exams. It may also help boost feelings of motivation, and help with a more positive mindset. This can be helpful for getting 'into the zone' for before and during training or physical activity.

With its traditional benefits as a fat burning tool, along with feelings of motivation, and muscle recovery help, Acetyl L Carnitine makes a great non stimulant support option for helping on weight loss and lean muscle gain plans. There are no negatives experienced while using it, and no downsides for the body after use ceases. For best results take 1 to 3 serves each day, with water, or a carbohydrate drink.
What does Pure Acetyl L Carnitine contain?
Contains only 100% Pure Active Acetyl L Carnitine powder. This is a pure powder with no additives, flavours, colours, or preservatives. Please note, Acetyl L Carnitine naturally has a citrus flavour.
How to use Acetyl L Carnitine
Mix desired amount with water, or a carbohydrate drink.

Nutrition Information
Serving Size: 1 x 1/8 Teaspoon (500mg)
100% Acetyl L Carnitine
Overall Rating
| | |
| --- | --- |
|  Mixability |  ★  ★  ★  ★  ★  |
|  Taste |  ★  ★  ★      |
|  Mike's Rating  |  ★  ★  ★  ★  ★  |