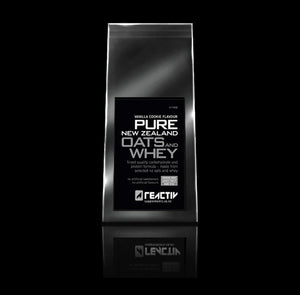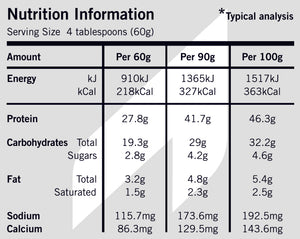 Regular price
$37.20
Sale price
$74.80
Wholesome NZ Oats and NZ Whey Shake
Tastes great in Vanilla Cookie flavour!
Naturally sweetened, free from Soy
Health supportive carbs and Whey
Fast and easy to prepare
Delicious NZ made nutrition
Lacto–Vegetarian Approved Product
What is Pure New Zealand Oats and Whey?
Pure New Zealand Oats and Whey is a nutrient rich, highest quality whey protein and oats, shake formula. It's a convenient blend of clean NZ sourced protein and healthy NZ complex carbohydrates, that can be used any time of day, or night. It's also excellent taken as a post workout shake. When you are time pressed for a meal, it's handy and fast to make. Due to the clean calories in this formula it's ideal to use as part of a weightloss plan. Or, if taken in larger serving sizes, then it's also great to use as a go to shake for a clean muscle gain plan.
How to Make An Oats And Whey Shake
When making your Pure New Zealand Oats and Whey shake, it's recommended to mix it in an electric blender with water or milk. That's the best way to go for a smooth, and creamy shake. Adding some Greek Yogurt tastes great too. If you need to, you can add the formula straight to a hand shaker for mixing, instead of using an electric blender. When mixing this way, it's best to add plenty of water, please note it won't be as smooth as using a blender, but it still tastes great. Shake for at least a minute or more if needed.
Pure Oats And Natural Whey
Pure New Zealand Oats and Whey is free from artificial ingredients and artificial sweeteners. It's also free from fillers, Soy, and GE ingredients.
Use
Depending on your goal, blend four tablespoons (60 grams), or six tablespoons (90 grams) with cold water, or milk. Take one to four servings daily to help meet your nutrition needs.
100% Ultra Filtration New Zealand Whey Protein Concentrate (from Milk), New Zealand Micronised Oats, Natural Vanilla Flavour, Natural Stevia, Instantiser (Sunflower Lecithin).
Contains Gluten
Overall Rating
| | |
| --- | --- |
|  Mixability |  ★  ★  ★  ★    |
|  Taste |  ★  ★  ★  ★  ★    |
|  Mike's Rating  |  ★  ★  ★  ★  ★  |