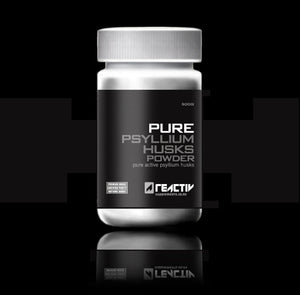 Pure Psyllium Husks Powder
Regular price
$14.80
Sale price
$22.90
Additive and flavour free
Great high fibre source
Aid healthy digestion
Assist weight loss
Vegan Approved Product
What is Pure Psyllium Husks Powder?
Psyllium Husks Powder comes from the seed from the Plantago Ovata plant. Often used by dieters, bodybuilders, and the health conscious, Psyllium Husks Powder is a gluten free, soluble dietary fibre. It's a natural fibre source, useful for helping maintain healthy digestion, or for a cleanse. If on a weight loss, or low carbohydrate plan, Psyllium Husks Powder is a simple way to support fibre needs and feeling full for longer. Psyllium Husks may help with maintaining blood sugar levels, reducing cholesterol levels, Bowel and Colon cleansing, and improving symptoms of IBS (irritable bowel syndrome). It makes a great, shake upgrade ingredient you can add when you make a protein smoothie.
Natural Psyllium Husks Powder
Contains only 100% natural Pure Psyllium Husks Powder. This is a pure powder free from additives, flavours, colours, and preservatives.
Use
Mix 1 teaspoon (5g) into your smoothie, juice, or water. Consume a lot of liquid per serve. Drink plenty of additional fluids throughout the day. Can be sprinkled on food. Please note Psyllium Husks Powder does swell a lot, this is why it's important to drink a lot of liquid when consuming, and afterwards. Take 1 to 2 x servings daily to assist digestion, and help you feel full for longer.
Recommendations
Test your tolerance by starting on a very small daily dose, and increase from there. This product is not recommended if you have any difficulty with swallowing.
Nutrition Information
Serving Size: 1 Teaspoon (5g)
Pure Psyllium Husks Powder
| | |
| --- | --- |
|  Mixability |  ★  ★  ★  ★      |
|  Taste |  ★  ★  ★  ★     |
|  Mike's Rating  |  ★  ★  ★  ★  ★  |