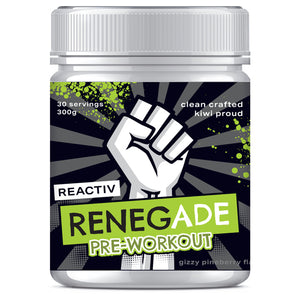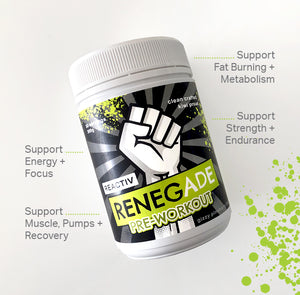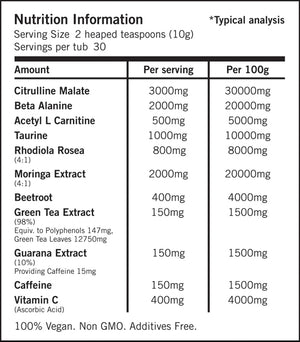 Regular price
$74.80
Sale price
$88.90
Ultra–Premium Pre–Workout

Proudly Kiwi crafted, free-from additives
Help wake up mind and muscles

Support strength and endurance
Aid blood flow, pumps and recovery

Assist metabolism and fat burning
Natural Gizzy Pineberry flavour
30 serve tub
Vegan Approved Product
RenegAde Clean Pre-Workout

RenegAde Pre-Workout is overflowing with natural adaptogens, nootropics, performance supporting aminos and body fat movers. It's designed to safely help with:
– Boosted Energy and Better Workouts
– Blood Flow for Performance and Pumps
– Muscle and Strength Development
– Tone, Muscle Shape and Definition
– Physical and Mental Endurance
– Mind Focus and Faster Reflexes
Pure, Kiwi made 
Would you like better training performance? RenegAde has been developed to help you exercise hard, focus more, break plateaus and fuel muscle to the maximum.
With premium local and international ingredients, RenegAde is proudly Aotearoa crafted. Completely free from artificial ingredients and overdosed stimulants, RenegAde is an ultra clean pre–workout, to help turn your workouts into personal best sessions.
What's inside?
Adaptogens + Nootropics
Adaptogens and Nootropics have become a go to arsenal for athletes and trainers who want quality gains, while at the same time supporting better physical and mental health.
Adaptogens may help your body adapt to challenging conditions, to reach physical potential. They may also help provide stress protection, fight exhaustion and boost immunity.
Nootropics on the other hand, may help switch on the brain – supporting motivation, mental stamina, focus and clarity.
Citrulline Malate, the force is strong
Citrulline Malate is used by the body to support Arginine production. Citrulline dominates for helping to raise Arginine levels, better than Arginine supplementation itself.
Boosted Arginine may help support increased nitric oxide levels in the body. This may help relax blood vessels, to help greater flow of oxygen and nutrients to muscles, for better strength, endurance, muscle development, and pumps. Greater circulation may also help clearance of waste from muscles, to further help performance, and recovery. 
We use the Citrulline Malate form of Citrulline. This may provide additional benefits of Malate. Malate may assist in the energy system in the body called the Krebs Cycle, to help fuel energy, and muscle contractions. 
Push on with Beta Alanine

Beta Alanine is used in the body to make Carnosine. Higher Carnosine may help muscles work harder, longer. Carnosine works by buffering lactic acid that accumulates as muscles work. This may help you push beyond your normal physical limits.
Another benefit of Beta Alanine is it may help as a neurotransmitter, fuelling the brain. Beta Alanine sometimes has an effect on the skin that feels like a brief tingling. Some people say it's a sign it's working. This is normal and may reduce with regular use, or by taking smaller servings.
Moringa superfood fuel
Nutrient rich Moringa is a go to adaptogen for natural energy help. Packed with amino acids, phytonutrients and vitamins, Moringa may help provide stable energy, endurance, and lean muscle protection. Because of its high nutrition, it's recommended to help support active living, demanding diets, and training.
Rhodiola, strong mind, stronger body
The Nootropic Adaptogen Rhodiola Rosea has been used for centuries to help support energy, toning the body, mental stamina, alertness, and fight stress. Legends say Rhodiola was used by Vikings to increase endurance and physical strength and body condition. A 4 week study showed young, healthy volunteers improved endurance exercise capacity taking Rhodiola (...no they weren't Vikings). Another study showed Rhodiola reduce lactate levels and muscle damage after an exhaustive workout session, as well as tap into body fat.

Beetroot, nitric power powder

Beetroot isn't just for kiwi burgers. It's another nutrition helper that may boost nitric oxide levels in the body. Like Citrulline Malate, this may help greater blood flow, oxygen transport, and muscle power. A number of studies have shown beetroot can diminish muscular fatigue from exercise.
Acetyl L Carnitine clarity
Different types of L Carnitine are used to help burn fat, but the form Acetyl L Carnitine has an extra benefit. Apart from it's gold star fat shred helping reputation, what makes it special is it may cross the blood–brain barrier, for nootropic brain support. It's often called the 'Brain Buzz' Carnitine, making a perfect addition for helping sharper focus and concentration, while tapping body fat for fuel. 
Taurine, the energy amino
Taurine is one of the most widely used energy drink amino acids, and has been called 'very essential'. It may help with improved exercise and mental performance, including greater endurance, strength, and focus. It's also used to help support electrolyte balance and hydration.
Guarana, decisions, decisions
Guarana is a rich alternative source of caffeine. It's fruit seeds contain up to 3 x the amount of caffeine as coffee beans. The seeds are also rich in other natural properties that may provide additional stimulation over caffeine alone. Guarana may help when it comes to firing up the metabolism and fighting fat, fast thinking and decision making. Squats or deadlifts?

Green Tea metabolism support
Green Tea, loaded with Polyphenol antioxidants called Catechins, is widely used to help assist metabolism boosting, better health, and toning up the body. Research has uncovered beneficial effects on brain power and mental function, including increased task skill ability. It may also help protect against oxidative damage from exercise, for better performance and recovery.
Caffeine works

Caffeine has been shown to improve mental and physical performance, and decrease fatigue. For using Caffeine to help performance, on a regular basis, we recommend a 150mg – 200mg dose. A recommended serving of RenegAde contains 150mg from pure Caffeine, and 15mg from Guarana Extract. This is suitable for a smooth boost and stable endurance. RenegAde can help daily, if you want to use it this way.
The flavour
You may have wondered about the flavour, Gizzy Pineberry. Gisborne (affectionately known as 'Gizzy'), on our North Island east coast, is the first place in the world to see the new sunrise each day, and New Year each year! If you are fortunate to have enjoyed summer days (or New Years) in this amazing place, you may have happy memories.
We wanted to celebrate the great vibes of Kiwi summers in spots such as Gizzy, with a flavour to bring the same smiles and uplifting happy feelings. So we developed Gizzy Pineberry. It's an all natural, tropical, kiwi, berry flavour, with a sherbet taste.
Mix a serving of RenegAde in a glass of chilled water, and enjoy some good kiwi summer vibes. There's no place like Gizzy. And nothing like its sunrise.

RenegAde is free-from additives
RenegAde contains only the ingredients above with 400mg of Vitamin C, natural flavour, and the natural sweetener Stevia. It's made free-from added sugars, preservatives, anti-caking agents, artificials, colours, and fillers. The colour of RenegAde is its natural colour coming from the ingredients we use.
Who is RenegAde for?
RenegAde is for those who want a pre-workout that can be taken regularly for optimum physical and mental performance. It's suitable for daily activities, training, competition use, and for helping on a diet plan.
How to use RenegAde Pre-Workout
Take 1 serving (10g), stirred into a glass of water, or shaken in a shaker.
Add ice, or use chilled water for best taste.
Take 30 minutes before activity or event.
For longer duration endurance, or strength events:
Take a half serve 30 minutes before event, and take a half serve 1 to 2 hours later.
Drink plenty of water throughout the course of the event, keep yourself hydrated.  
Overall Rating
| | |
| --- | --- |
|  Mixability |  ★  ★  ★  ★  ★      |
|  Taste |  ★  ★  ★  ★  ★     |
|  Mike's Rating  |  ★  ★  ★  ★  ★  |
Full ingredients list: L–Citrulline DL–Malate 2:1, Beta Alanine, Moringa Extract, Taurine, Acetyl L–Carnitine, Beetroot, Vitamin C (Ascorbic Acid), Rhodiola Rosea, Green Tea Extract, Guarana Extract, Caffeine Anhydrous, Natural Flavours, Stevia.
Warnings
If you have a heart, liver, kidney, or thyroid condition please seek medical advice before using this supplement. Not for use by pregnant women.