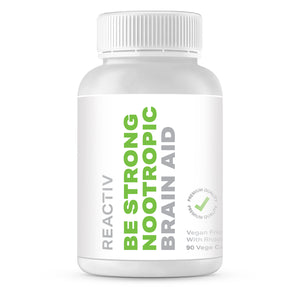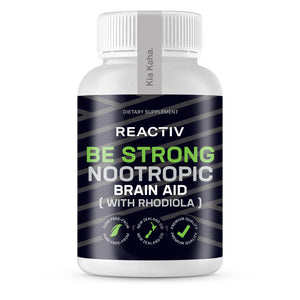 Be Strong Nootropic Brain Aid
Regular price
$49.70
Sale price
$74.90
or 4 payments of $12.43 with
More info
Extra strength mind and body support, with Rhodiola 
Help build a strong, focused, calm mind
Support memory, clarity, and feeling positive

Aid brain health and immunity under stress
Big value 90 serve bottle
Vegan Approved Product
Be Strong Nootropic Brain Aid
Be Strong Nootropic Brain Aid is a very high strength mind and body support formula of nootropic adaptogen herbs, and B vitamins. It's here to help support maximum mental ability, thinking clearly, memory, and willpower. It's also potent assistance to help support the body and immune system, for greater energy and vitality.
The carefully developed formula may help you perform at your peak, and offer a safe, natural aid, in times of mental and physical stress. Help the mind and body stay strong – Kia kaha.
What are Nootropics?
Nootropics are nutrients that help support enhanced brain performance, and mental function. To put it simply, nootropics may increase your mental edge – mind stamina, focus and concentration, memory, motivation, creativity, and positive feelings. Nootropics are most famous for helping the mind enter a 'Flow State'.
What are Adaptogens?
Adaptogens are plant, herb, and root ingredients that help the body naturally adapt to stress and overload. They help the body defend against stressors – physical, chemical, and biological. They are used to help 'toughen up' the body, to make it more resilient,.
What is Rhodiola?

Rhodiola Rosea is a nootropic adaptogen herb. Rhodiola's key benefit is assistance to help support an increased sense of well being, inner strength, and a positive mindset with more focus. It may also help with increased physical endurance and performance during exercise. It's thought it may do this through decreasing feelings of perceived exertion. This may help you push on harder for longer. It's ideal before athletic competition, before an exam, or anytime mind and body ability needs to be heightened and extended.
For immune system support, Rhodiola has been studied for protective antiviral properties. To find out more on how Rhodiola may help decrease the chance of catching a virus just click here. 
What is Rosemary used for?
The nootropic adaptogen herb Rosemary is a rich source of antioxidants and brain and body protective compounds. It may help build significantly improved memory, and concentration ability. Used by students studying for exams, it has become popular help for supporting enhanced memory, fast thinking, and alertness, while remaining calm and focused on the job at hand.
Throughout history Rosemary has also been used to help support building the immune system, health protection, and aid the respiratory system.
Lemon Balm
High antioxidant properties in the nootropic adaptogen herb Lemon Balm, may help protect the brain from free radical damage. It may also help undo damage to brain function caused by too much stress. It's used widely to help support positive mood. Regenerative properties may support and stimulate the brain to help with the formation of memories, and elimination of brain fog. When supplementing Lemon Balm it may support feelings of calm with increased focus, clarity, and help with problem solving.
Traditionally Lemon Balm has also been used to help boost immunity, and help combat viral infections.
B Complex Vitamins
These essential vitamins are water soluble and not stored in the body in high amounts. Food processing techniques, and cooking of food may also challenge reaching optimal vitamin B levels. Researchers believe that even a small deficiency in B vitamins may put the brakes on mental and physical performance, recovery, and relaxation.
The B Complex vitamins in Be Strong Nootropic are included to help support metabolism, mental and physical performance, mood, focus, as well as the immune system. 
Be strong

Be Strong Nootropic is here to help you support building strong mental fortitude, positive feelings, and a focused, calm mind. If you would like to help:
– Sharpen your mind
– Increase learning ability
– Spark creative ideas
– Think more clearly
– Clear brain fog
– Strengthen body health
Then try Be Strong Nootropic, it's support you can take everyday.
What does Be Strong Nootropic Brain Aid contain?
Be Strong Nootropic contains only active nootropic, adaptogen, and vitamin ingredients. It's free from excipients and fillers, and uses a vegetable capsule. It's plant based friendly, and suitable for vegans and vegetarians.
Carefully made in New Zealand
Be Strong Nootropic is proudly crafted here in New Zealand. We use only the finest, selected local and imported ingredients.
How to use Be Strong Nootropic Brain Aid
Take 1 to 3 capsules per day, with or without food. Take 1 to 3 capsules with breakfast, or 60 minutes before physical or mental event. For optimum mental health, performance, and immunity benefits help, take Be Strong Nootropic every day. It's recommended to start with 1 capsule per day, if you feel your personal needs are greater, increase dose by 1 capsule per day, up to a maximum of 3 capsules per day.
Use
Take 1 to 3 capsules per day, with or without food.
Nutrition Information
Servings Per Bottle: 90
Serving Size: 1 Capsule
(Typical analysis)
Rhodiola Rosea Root (4:1): 640mg
Rosemary Leaf (10:1): 800mg
Ginger Rhizome (6:1): 480mg
Lemon Balm Leaf (10:1): 1600mg
Vitamin B1: 17mg

(Thiamine HCL)
Vitamin B2: 16mg
(Riboflavin)
Vitamin B3: 16mg
(Nicotinamide)
Vitamin B5: 18mg
(D–Calcium Pantothenate)
Vitamin B6: 18mg
(Pyridoxine HCL)
Vitamin B12: 12mcg
(Methylcobalamin)
Folic Acid: 80mcg
Zinc Citrate: 4mg
 Overall Rating
| | |
| --- | --- |
|  Mike's Rating |  ★  ★  ★  ★  ★  |
 Warnings
Not for use by pregnant women.