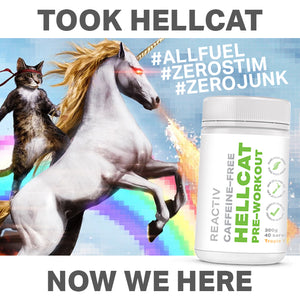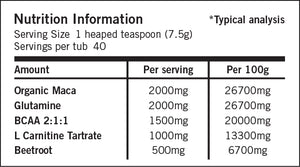 Regular price
$67.80
Sale price
$85.90
or 4 payments of $16.95 with
More info
Natural energy BCAA Pre-workout, without Caffeine
NZ crafted, free-from artificial additives
Delicious tasting Tropic Frenzy flavour
40 serve tub
Pre–Workout BCAA without stimulants
Help endurance, strength, recovery
BCAA + Glutamine to aid muscle
Vegan Approved Product
What is Hellcat Pre–Workout BCAA?
Have you used pre–workout supplements but don't like the high caffeine, wired feelings, and energy crashes? Or would you just prefer to avoid caffeine altogether? If so, then Hellcat Pre–Workout BCAA was developed for these needs. If you are following a plant based eating plan, it's also perfect assistance.
Hellcat Pre–Workout BCAA is made in New Zealand from carefully selected local and imported ingredients. It is a 'CAFFEINE FREE' pre–workout energy, endurance, strength, and lean muscle supporting supplement, without any artificial additives, or animal derived products:
> To help you train harder for longer without stimulants.
> To aid faster recovery, repair, and gains.
> To support your body without negative health effects.
If you are intolerant to caffeine (or need a break from it) and want the assistance of a pre–workout loaded with clean, effective ingredients, then Hellcat Pre–Workout BCAA is designed for you.
Hellcat Pre–Workout BCAA is without caffeine, so how will it help improve training?
Hellcat Pre–Workout BCAA is not a caffeinated and energy spiking pre–workout – to get the most out of them, caffeine and stimulant loaded pre–workouts are best taken only once or twice a week. Using them more often than this can cause the body to form resistance to the supplement. Instead, Hellcat Pre–Workout BCAA is support you can take every day you train. By taking Hellcat Pre–Workout BCAA every day you train, this will help its ingredients build cumulative levels in your body, assisting hormone optimisation, and strength and endurance capabilities.
Regular use may also have the added benefit of a buffering effect, to assist detoxifying the body naturally after exercise, from lactic acid build up. This waste product 'clearance' may be significant help for improving your recovery, and speeding up lean muscle and strength gain progress. After a few days of consecutive use you may notice that you have less muscle soreness in the days following your workouts than you would normally experience.
What if I only take Hellcat Pre–Workout BCAA once or twice a week, will it still work?
You may still feel the benefits from taking Hellcat Pre–Workout BCAA only once or twice per week, the effects just won't be as pronounced as if you were taking it more regularly. Regular use will help contribute to greater training progress than less consistent use.
Summary
Hellcat Pre–Workout BCAA is a supplement designed to be taken thirty to sixty minutes before your workouts, to help you fight training fatigue, train harder for longer, and support lean muscle protection. Teaming this benefit with Hellcat's natural recovery assistance, it's ideal help for breaking through personal training barriers.
How will I feel when I use Hellcat Pre–Workout BCAA?
Unlike caffeine based pre–workouts, you will not feel the jitters or blast of energy to the central nervous system prior to training, or during training. Instead, if you don't usually drink coffee, you may feel some extra motivation before training, but it's not normally until you are warmed up and into your workout that you may notice the power, endurance, and focus benefits that Hellcat Pre–Workout BCAA is designed to help with kicking in. Hellcat Pre–Workout BCAA is designed to help you push on through your workouts harder every day, for longer periods of time, without crashes and other downsides associated with caffeine.
How much should I take, and what's inside?
We recommend a 7.5g serve (1 heaped teaspoon) for starting out or lighter weight trainers, or a 15g serve (2 heaped teaspoons) for experienced or heavier weight trainers.
Full ingredients list: Organic Peruvian Maca, L–Glutamine, BCAA 2:1:1 (L–Leucine, L–Isoleucine, L–Valine, sunflower lecithin), L–Carnitine Tartrate, Beetroot, Natural Flavour, Stevia. Caffeine free, and without artificial additives, artificial colours, or fillers. The colour of Hellcat is from the natural ingredients. Made in New Zealand from selected local and imported ingredients.
Use
Stir one heaped teaspoon (7.5g standard serve) with 250ml of chilled water, or two heaped teaspoons (15g pro serve) with 500ml of chilled water. Drink thirty to sixty minutes before training.
 Overall Rating 
 Mixability
 ★  ★  ★  ★  
 Taste

 ★  ★  ★  ★

 

★ 
 Mike's Rating 
 ★  ★  ★  ★  ★ 

Warnings
If you suffer from a heart condition, liver or kidney condition, or thyroid condition, please seek medical advice before using this supplement. Not for use by pregnant women.